New Year, New You; Join Scentsy and Start Selling Today
Joining Offer For Scentsy – There Is No Better Time To Join!
It's only the 14th January 2014 and I don't think I could have crammed anymore in so far this year!
On the 5th January 2014, I flew by myself to Cancun, Mexico (I still cannot quite believe I did that!) to attend the Scentsy Leadership Retreat at the Moon Palace Hotel.  I was extremely lucky in that it was an all expenses paid retreat which I won as part of Scentsy's Can-Do-Cancun Incentive.
It was an incredible experience and I cannot put into words how amazing it was to meet consultants from the US and Canada.  Once I have come back down to earth I will do a separate blog with photos of my week there.
When I joined Scentsy, there was an incentive trip running to earn a trip to the US.  I totally dismissed this as something I could ever achieve and thought it was just for the "big players" so I still have to pinch myself that I have now been on two trips with Scentsy and I am going to Greece with them in May.  Anyone can qualify for these trips, regardless of how long you have been with Scentsy or your title.
I truly love my "job" and the company and so so grateful that I found Scentsy.  I have made fantastic friends because of Scentsy and work with a great team.  Each day brings different challenges and rewards.  One of my team got her first team member today and I received the news whilst sitting in the park watching my little girl on the swings.  I screeched which was greeted by a lot of bemused faces from the other mums!
If you have been thinking about joining Scentsy, but wanted to get the craziness of Christmas over with before you joined, well now truly could not be a better time.  For the first time since Scentsy launched in the UK, Scentsy have a fantastic offer if you join during January 2014.

Why Should I Join Scentsy Now?
When you join Scentsy, if you sell an accumulative total of £500.00 of sales within your first 15 days, you have the option of purchasing an enhancement starter kit for £200.00 (the actual value of the kit is £500.00).  This reward is known as the Shooting Star Reward.
For January only, if you achieve the Shooting Star Reward, you will receive this kit, absolutely FREE!
Plus
You will also receive FREE shipping on your starter kit which is a saving of £9.00.
So January really is a great time to join!  Start your own Scentsy business in January 2014 for just £85.00 with the opportunity of earning £500.00 worth of products for FREE!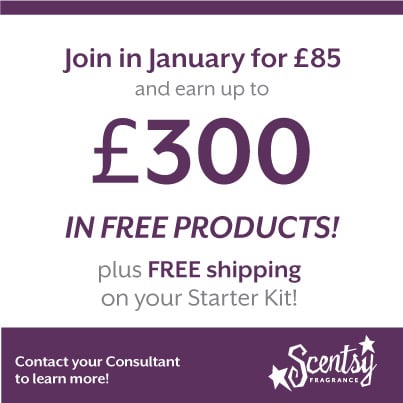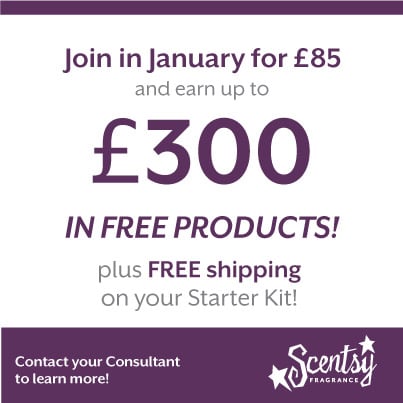 If you would like a free, no obligation, information pack regarding joining Scentsy in the UK, Ireland, Germany, Poland, America, Canada, Australia or Mexico (please note the free enhancement kit and free shipping offer is not available in Australia), then please email me today at becky@thecandleboutique.co.uk where I will post one to you immediately, together with a catalogue and some samples of our wax.
If you would like some more information regarding Scentsy, you are welcome to visit my website www.thecandleboutique.co.uk or visit my Facebook fan page