The Scentsy German Starter Kit
Join Scentsy And Become An Independent Scentsy Consultant
Enrol today and start earning commission straight away!
An Amazing Scentsy German Starter Kit Offer This August 2022 At €99.00
Scentsy Starter Kit
Everything you need to start your business, you have a choice of two starter kits to join Scentsy with.
New Consultants get a FREE Scentsy Warmer when they join in August!
This month only, get the huge starter kit with an additional free warmer

Only €99.00
Valued At Over €350
SCENTSY STARTER KIT ZUR UMSTELLUNG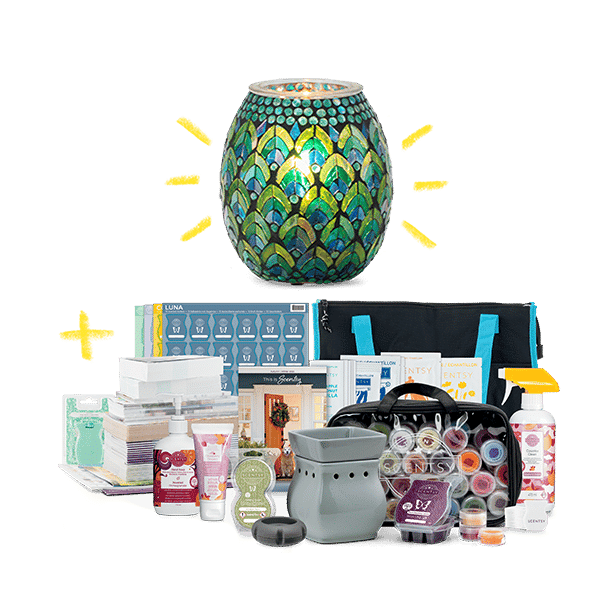 Elektrische Duftlampe Classic Curve – Gloss Gray
Scentsy Bar Black Raspberry Vanilla
Miniduftventilator Slate
Scentsy Pod Doppelpack Amazon Rain
Sprühreiniger Cloudberry Dreams
Handcreme Jeweled Pomegranate
Handseife Jeweled Pomegranate
Car Bar Aloe Water & Cucumber
Duft-Sticker Coconut Lemongrass (1 Packung mit 72 Sticker)
Duft-Sticker Luna (1 Packung mit 72 Sticker)
Öl Duft-Sticker Eucalyptus Lavender Mint (1 Packung mit 72 Sticker)
Öl Duft-Sticker Jasmine White Tea (1 Packung mit 72 Sticker)
Probepäckchen-Set (Wäschepflege, Körperpflege, Reinigungsmittel und Haustierpflege)
Filzproben in der klassischen Scentsy Kurvenform
Frühling/Sommer Dufttester-Set 2022
Herbst/Winter Übergangstester-Set 2022
Schnellstart-Leitfaden
Leitfaden für BeraterInnen
Produkttrainings-Leitfaden
Frühling/Sommer Kataloge 2022 (25er-Pack)
Produktlisten Frühling/Sommer 2022 (2 Block mit 50 Blatt)
Herbst/Winter Kataloge 2022 (25er-Pack)
Herbst/Winter Produktlisten 2022 (2 Block mit 50 Blatt)
Produktkategorienbroschüren für Körperpflege (25er-Pack)
Produktkategorienbroschüren für Reinigungsmittel (25er-Pack)
Produktkategorienbroschüren für Wäschepflege (25er-Pack)
Produktkategorienbroschüren für Haustiere (25er-Pack)
Gastgeber-/Startbroschüren (25er-Pack)
Bestellformulare (50er-Pack)
Einladungspostkarten (100er-Pack)
Dankespostkarten (100er-Pack)
Warentüten
Minibeutel mit Reißverschluss
Insolierte Tragetasche exklusiv zum Starter Kit
* Änderung der gratis Elektrischen Duftlampen vorbehalten.
Why Choose Us, As Your Sponsor?
We would love you to join our team, but why should you choose as as your sponsors?
When you join Scentsy, you choose who you would like to be your Scentsy sponsor. A sponsor is someone who supports and guides you with your Scentsy business. So what can we offer you as your sponsor?
Are you ready to start your own Scentsy business? Sound scary? Let me put any concerns you have aside:-
Did You Know?
Some Great Reasons To Join Scentsy
The Scentsy Starter Kit is yours to keep
No stock holding requirements
You earn commission on all of your orders
There are no fees to remain a consultant and you can walk away at anytime
No need to obtain a card reader as you can process customers card payments via the Scentsy Workstation without any fees
Full support from our group "Written in the stars" as well as full support and training from Scentsy
Lots of perks from earning half-price items and product credit to once-in-a-lifetime holidays.
Scentsy Joining FAQ's
If you still have a questions, please contact me.