Become An Independent
Scentsy Consultant In Spain
You can buy or join Scentsy in Spain.
Would you like to Join Scentsy in Spain?
Are you interested in more information on becoming a Scentsy consultant in Spain then please enter your email below to receive your FREE joining information pack?
Please fill out this form to be emailed your free information pack.
No spam, unsubscribe at anytime!
What is Scentsy?
This wickless concept was born when two stay-at-home mums began selling decorative warmers designed to melt scented wax with the heat of a light bulb instead of a traditional wick and flame.
Entrepreneurs Heidi and Orville Thompson encountered the small company at a home show in early 2004. They were intrigued by the powerful emotions and memories fragrance brings to the surface – without the safety risks of a burning candle. Heidi and Orville purchased the tiny company and moved Scentsy to Meridian, Idaho, USA, where the company's first home office was a 40-foot ocean shipping container on a small sheep farm.
Today, the company's family of passionate Independent Scentsy Consultants share the Scentsy experience throughout the United States, Canada, Mexico, United Kingdom, Ireland, France, Germany, Austria, Spain, Australia and New Zealand.
How Do The Scentsy Products Work?


Once melted the wax only reaches just above body temperature.
No naked flame in your home.
As we only warm and not burn our wax no soot, smoke or toxins are released, only beautiful fragrances.
The wax never disappears, only the fragrance reduces.
Our warmers and diffusers are supplied with a lifetime guarantee.
Each bar gives you between 80 to 100 hours of fragrance.
You can mix wax cubes together to create your own Scentsy recipes.
There is no wasted wax, simply turn it on or off whenever you want!
What Is In the Scentsy Spanish Starter Kit And How Much Does It Cost To Join?
An Amazing Scentsy Spain Starter Kit
Everything you need to start your business.
SCENTSY SPAIN STARTER KIT

Only €99.00
Valued At Over €350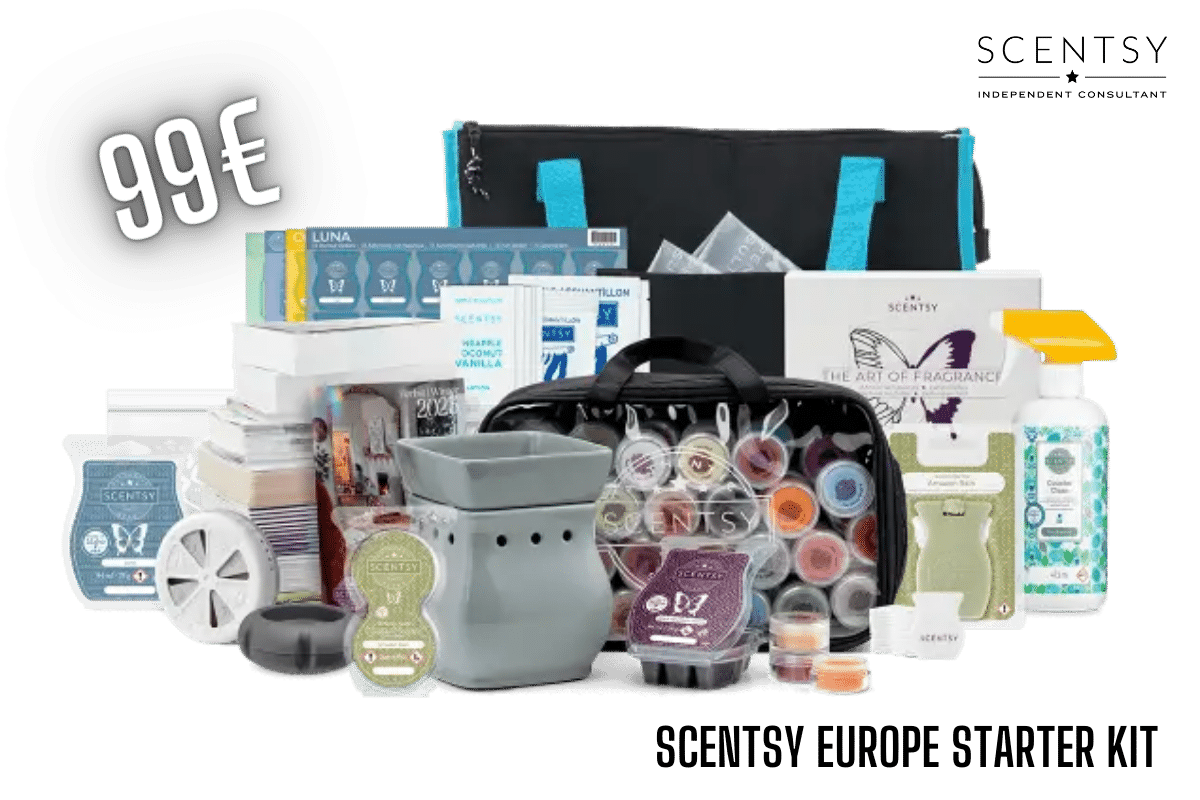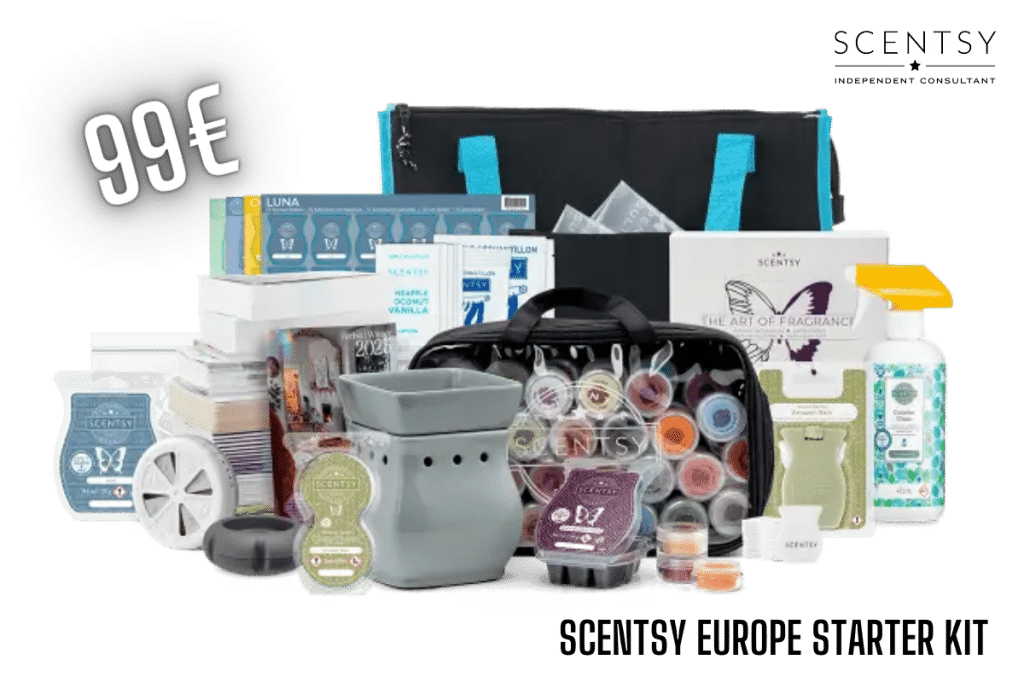 Calentador Classic Curve – Gloss Gray
Barra Scentsy Black Raspberry Vanilla
Barra Scentsy Luna
Mini Difusor con Ventilador Slate
Paquete doble de Canastillas Scentsy Amazon Rain
Limpiador para Encimeras Vanillamint
Scentsy Car Bar Amazon Rain
Cápsula de viaje Vanilla Bean Buttercream
Pegatinas perfumadas Coconut Lemongrass (1 lote de 72 pegatinas)
Pegatinas perfumadas Luna (1 lote de 72 pegatinas)
Pegatinas perfumadas de aceites Eucalyptus Lavender Mint (1 lote de 72 pegatinas)
Pegatinas perfumadas de aceites Jasmine White Tea (1 lote de 72 pegatinas)
Lote de paquetitos de muestras (Lavandería, Cuidado del Cuerpo, Limpieza)
Muestras de fieltro con la curva clásica de Scentsy
Kit de capacitación: El Arte de las Fragancias
Set de muestras de Otoño/Invierno 2023
Guía del Consultor
Guía de capacitación sobre productos
Catálogos Otoño/Invierno 2023 (1 lote de 20)
Listado de Productos Otoño/Invierno 2023 (1 bloc de 50 hojas)
Folletos Organiza/Únete (1 lote de 20)
Formularios de pedido (1 lote de 50)
Invitaciones (1 lote de 100)
Postales de agradecimiento (1 lote de 100)
Bolsas para productos
Minibolsas con cierre de cremallera
Bolso térmico exclusivo para Kit de Comienzo
Why Choose Us, As Your Sponsor?
We would love you to join our team, but why should you choose as as your sponsors?
When you join Scentsy, you choose who you would like to be your Scentsy sponsor. A sponsor is someone who supports and guides you with your Scentsy business. So what can we offer you as your sponsor?
Are you ready to start your own Scentsy business? Sound scary? Let me put any concerns you have aside:-
Did You Know?
Some Great Reasons To Join Scentsy
The Scentsy Starter Kit is yours to keep
No stock holding requirements
You earn commission on all of your orders
There are no fees to remain a consultant and you can walk away at anytime
No need to obtain a card reader as you can process customers card payments via the Scentsy Workstation without any fees
Full support from our group "Written in the stars" as well as full support and training from Scentsy
Lots of perks from earning half-price items and product credit to once-in-a-lifetime holidays.
Scentsy Joining FAQ's
If you still have a questions, please contact me.