You can buy or join Scentsy in Wales.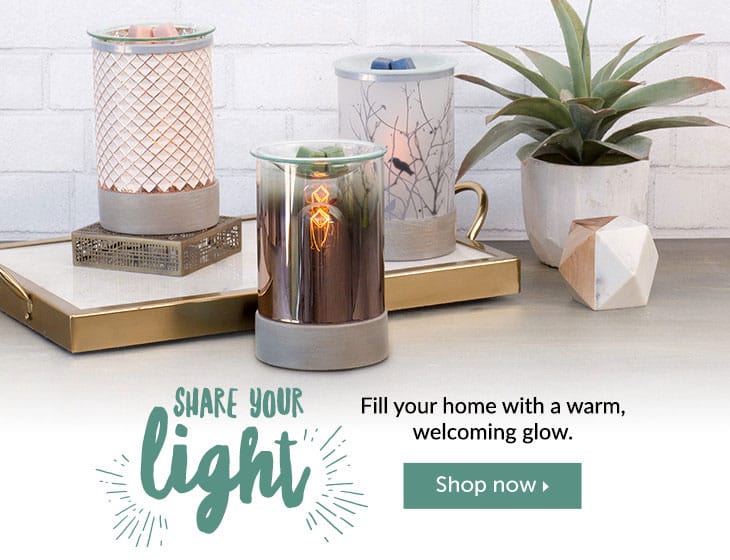 What is Scentsy?
This wickless concept was born when two stay-at-home mums began selling decorative warmers designed to melt scented wax with the heat of a light bulb instead of a traditional wick and flame.
Entrepreneurs Heidi and Orville Thompson encountered the small company at a home show in early 2004. They were intrigued by the powerful emotions and memories fragrance brings to the surface - without the safety risks of a burning candle. Heidi and Orville purchased the tiny company and moved Scentsy to Meridian, Idaho, USA, where the company's first home office was a 40-foot ocean shipping container on a small sheep farm.
Today, the company's family of passionate Independent Scentsy Consultants share the Scentsy experience throughout the United States, Canada, Mexico, United Kingdom, Ireland, France, Germany, Austria, Spain, Australia and New Zealand.
How Do The Scentsy Products Work?

Once melted the wax only reaches just above body temperature.
No naked flame in your home.
As we only warm and not burn our wax no soot, smoke or toxins are released, only beautiful fragrances.
The wax never disappears, only the fragrance reduces.
Our warmers and diffusers are supplied with a lifetime guarantee.
Each bar gives you between 80 to 100 hours of fragrance.
You can mix wax cubes together to create your own Scentsy recipes.
There is no wasted wax, simply turn it on or off whenever you want!
Where and how can I buy Scentsy in Wales?
  Call Freephone:- 0800 772 0656
Payment Methods
Website orders: Credit / Debit Card only
Phone orders: Credit Card, Bank Transfer and Paypal
Postage Discounts
All orders over £225.00 receive free delivery when ordering online.
For orders under £225.00 please email me for
shipping costs sales@thecandleboutique.co.uk
Thinking Of Joining Scentsy In Wales?
There is currently a shortfall of Scentsy consultants in Wales and we are looking for people to join our successful growing international team.  This is an amazing opportunity to be one of the first Scentsy consultants in Wales and build a thriving sustainable business.  Full support and training will be given.
How Do I Sell Scentsy?
When you join and become a Scentsy Consultant, you are provided with a three-month FREE subscription to your own personal Scentsy website. At the end of the three months it is only £10 a month to continue your subscription. The Scentsy website subscription is a "switch on and off" option with no tie in or obligation at all. This is a very powerful tool which enables you to generate online sales. As an additional bonus, Scentsy deal with the dispatch of orders generated through your website!
It is your business and you sell Scentsy how you choose to and feel confident with. I started by handing catalogues out to family and friends (who in turn passed the catalogues to their friends etc) and as soon as my confidence grew (which was very quickly due to the positive response I had already received) I started attending local pamper and shopping events. From these I have established loyal customers who have then booked Scentsy home parties. Word of mouth is a fantastic selling tool and best of all it is free!
There are no catalogue drops, no minimum party requirements (you do not need to host parties if you don't feel comfortable with this), no target areas. The only requirement we have is that you sell 150prv (approximately £166) in one month within a three month period. Scentsy is very stress free and best of all it is great fun!!
Support and Training
Once you join my team and become a Scensty Consultant, you can be assured you will receive full support from not only myself, but also fellow Scentsy consultants within my team and throughout the UK and the USA. We have a fantastic support network in the form of closed groups on Facebook. I have also developed a team resource centre for my Scentsy team where you will have access to valuable selling tools and where we can discuss and share hints and tips on how to make the most of this amazing opportunity!
I will help you every step of the way in not only creating and establishing your Scentsy business, but also help in your continued success!
When You Join My Scentsy Team You Will Receive:
Full support and training

Access to our Team Facebook groups

Full access to our Team Resource Centre that is password protected

A large selection of templates and marketing ideas

Instant accessabilty to me via email or phone

Monthly team incentives on top of Scentsy run incentives

Monthly team newsletters
Are You Ready to Start Your Scentsy Career?
If the answer is "yes" and you are ready to become a scentsy consultant please click here
if you would like to join but do not live in the UK please contact me here
Not ready just yet? If you would like to receive a free no obligation information pack, please click here
or call me on 0800 772 0656.
Scentsy Wales
Have a question? Give us a call 0800 7720656 or email becky@thecandleboutique.co.uk