Standard Starter Kit Only $150
Everything you need for just $150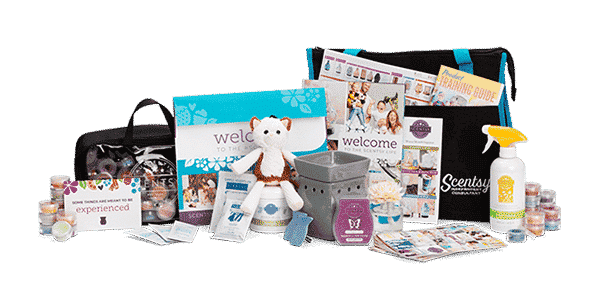 STARTER KIT $99
Classic Curve - Gloss Gray Warmer
Black Raspberry Vanilla Scentsy Bar
Go Go Mango Scentsy Bar
Sunkissed Citrus Scentsy Bar
Hobo the Cat Buddy Clip
Lemon Verbena Counter Clean
Amazon Rain Washer Whiffs (453 g)
Luna Car Bar Clip
Body Product Samples
Laundry Product Samples
Spring/Summer 2019 Fragrance Tester Set
Autumn/Winter 2020 Transition Tester Set
Classic Curve Felt Samples
Consultant Guide
Quick Start Guide
Autumn/Winter 2020 Catalogues (1 pack of 25)
Spring/Summer 2019 Catalogues (1 pack of 25)
Autumn/Winter 2020 Product Lists (1 pad of 50 sheets)
Body Product Category Brochures (1 pack of 25)
Clean Product Category Brochures (1 pack of 25)
Laundry Product Category Brochures (1 pack of 25)
Fragrance Systems Brochures (1 pack of 25)
Pets Product Category Brochures (1 pack of 25)
Host/Join Brochures (1 pack of 25)
Order Forms (1 pack of 50)
Invitation Postcard (1 pack of 100)
Merchandise Sacks
Mini Zip Sacks
Product Training Guide
Thank You Postcards (1 pack of 100)
Free Gift
ACTUAL CONTENTS SUBJECT TO CHANGE WITHOUT NOTICE.
Start your own Scentsy business and work it your way.  Whether you want to run it as a full time career, or something you can give a few hours a week, Scentsy is a fun and rewarding way to work from home.
Earn between 20 to 36 percent commission and bonuses for sharing products you love.  You will also have the opportunity to work towards earning amazing incentive trips, past destinations have included a Mediterranean Cruise, Greece, Disneyworld Florida and Mexico.
JOIN NOW! START YOUR SCENTSY BUSINESS TODAY.
Become a Scentsy Consultant and Join Today
Have a question? Email becky@thecandleboutique.co.uk