Join Scentsy And Become An Independent Scentsy Consultant
Enrol today and start earning commission straight away!
Scentsy Australia Starter Kit October 2023 Joining Offer
New Consultants who join in October* will receive a Holiday Scentsy Bar 5-pack and a November Warmer of the Month with their $99 Starter Kit.*
*Certain countries are excluded. Click "Order My Kit" to view the available options in your region.
An Amazing Scentsy Australian Starter Kit
Scentsy Starter Kit
Everything you need to start your business.
SCENTSY AUSTRALIA STARTER KIT $150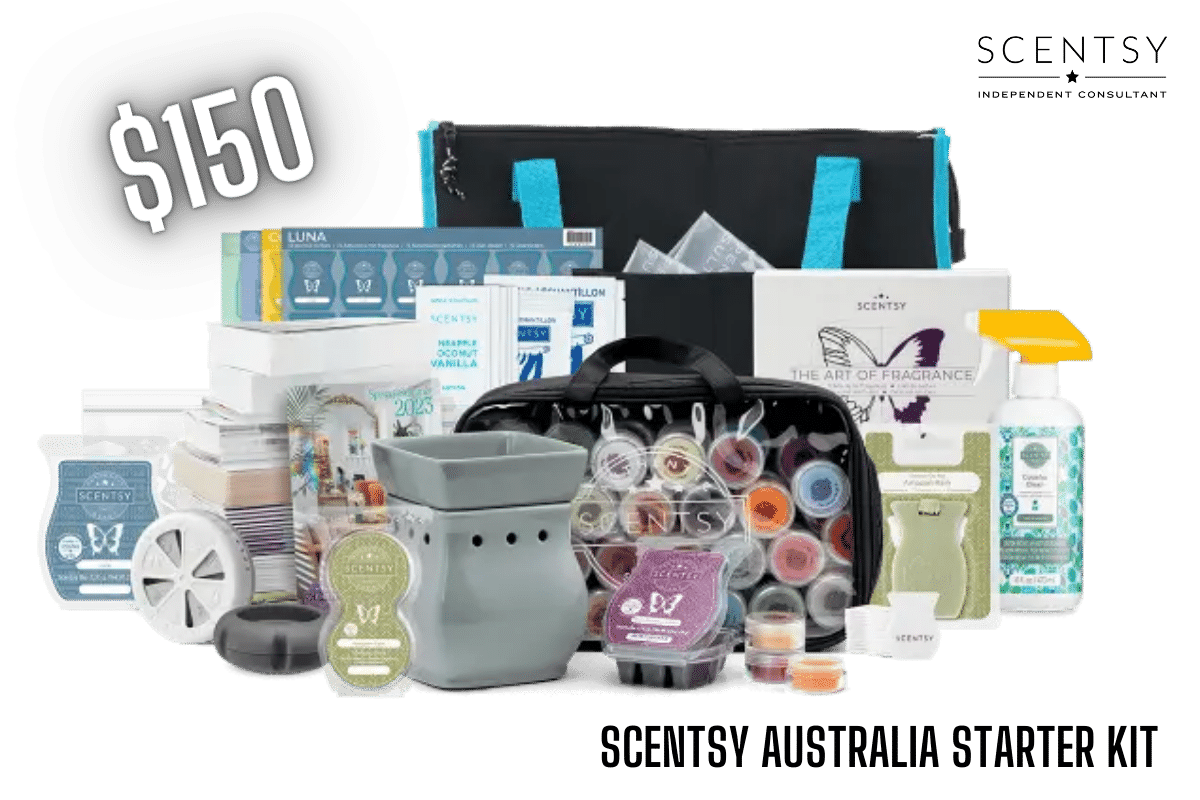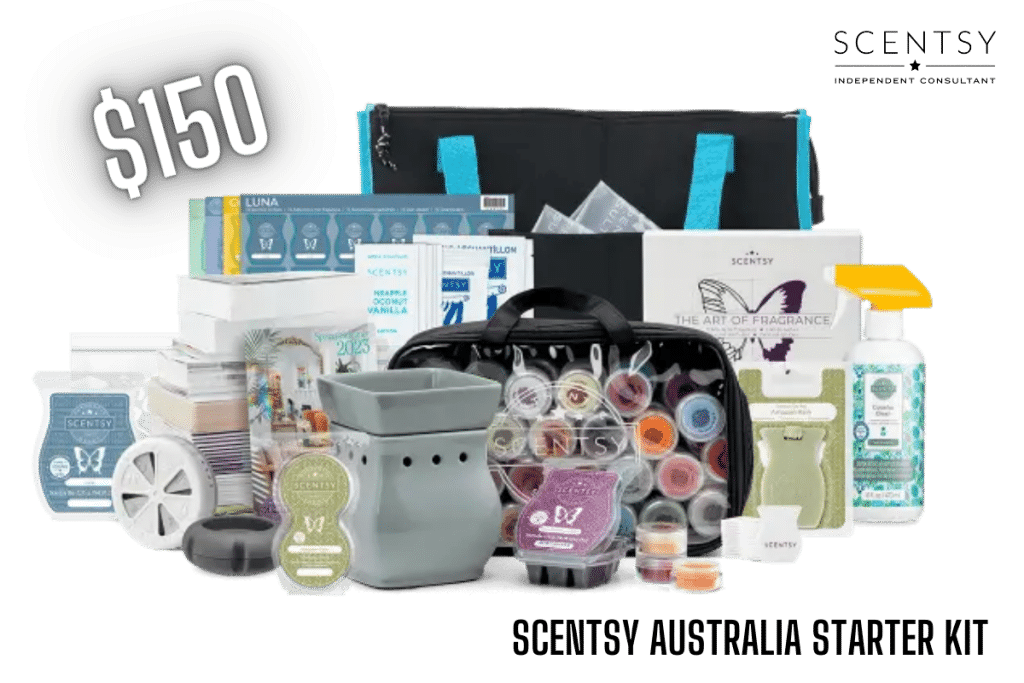 Classic Curve – Gloss Gray Warmer
Black Raspberry Vanilla Scentsy Bar
Luna Scentsy Bar
Slate Mini Fan Diffuser
Amazon Rain Scentsy Pod Twin Pack
Vanillamint Counter Clean
Amazon Rain Car Bar
Vanilla Bean Buttercream Travel Twist
Coconut Lemongrass Scented Stickers (1 pack of 72 stickers)
Luna Scented Stickers (1 pack of 72 stickers)
Eucalyptus Lavender Mint Oil Scented Stickers (1 pack of 72 stickers)
Peach & Patchouli Oil Scented Stickers (1 pack of 72 stickers)
Sample Packette Bundle (Laundry, Body, Clean)
Classic Curve Felt Samples
The Art of Fragrance training kit
Spring/Summer 2023 Tester Set
Consultant Guide
Product Training Guide
Spring/Summer 2023 Catalogues (1 pack of 20)
Spring/Summer 2023 Product Lists (1 pad of 50 sheets)
Host/Join Brochures (1 pack of 20)
Order Forms (1 pack of 50)
Invitation Postcards (1 pack of 100)
Thank You Postcards (1 pack of 100)
Starter Kit Exclusive Insulated Tote
Why Choose Us, As Your Sponsor?
We would love you to join our team, but why should you choose as as your sponsors?
When you join Scentsy, you choose who you would like to be your Scentsy sponsor. A sponsor is someone who supports and guides you with your Scentsy business. So what can we offer you as your sponsor?
Are you ready to start your own Scentsy business? Sound scary? Let me put any concerns you have aside:-
Did You Know?
Some Great Reasons To Join Scentsy
The Scentsy Starter Kit is yours to keep
No stock holding requirements
You earn commission on all of your orders
There are no fees to remain a consultant and you can walk away at anytime
No need to obtain a card reader as you can process customers card payments via the Scentsy Workstation without any fees
Full support from our group "Written in the stars" as well as full support and training from Scentsy
Lots of perks from earning half-price items and product credit to once-in-a-lifetime holidays.
Scentsy Joining FAQ's
If you still have a questions, please contact me.