Request your FREE Joining Scentsy Information Pack
As your sponsor, I will offer you full support and training with your Scentsy business. You will have access to our group page on Facebook which is full of information, training and support. Both myself and my husband, Stuart, work our Scentsy business full-time so we are easily accessible if you need any help or advice.
Please fill out this form to be emailed your free information pack.
No spam, unsubscribe at anytime!
Why Join Scentsy?
Scentsy began with a simple idea — a safe, wickless alternative to scented candles — and quickly grew into one of the most successful direct selling companies in the world. This wickless concept is simply decorative ceramic warmers designed to melt scented wax with a heating element instead of a traditional wick and flame.
Entrepreneurs Heidi and Orville Thompson encountered the product line at a home show in early 2004, purchased the tiny company, and moved Scentsy to Meridian, Idaho, USA, where the company's first home office was a 40-foot ocean shipping container on a small sheep farm. The Thompsons were inspired by how fragrance brings powerful emotions and memories to the surface — without the safety risks of a burning candle — and launched Scentsy as a party-plan company that same year.
Scentsy joined the U.S. A. Direct Selling Association (DSA) in 2004 and enrolled its first Independent Consultant. Since then, the company has expanded operations, hired a strong executive team, extended its product line, innovated around the Scentsy business opportunity, and received numerous awards for its growth and ethical business practices. Scentsy was named the number one consumer products company on the 2010 Inc. 500 list, ranked among the top 100 on the 2011 Inc. 500 list, appeared in the 2010 Direct Selling News Global 100 list of top direct selling companies, and received the DSA's 2010 and 2011 Success Awards and the DSA's 2009 Rising Star Award.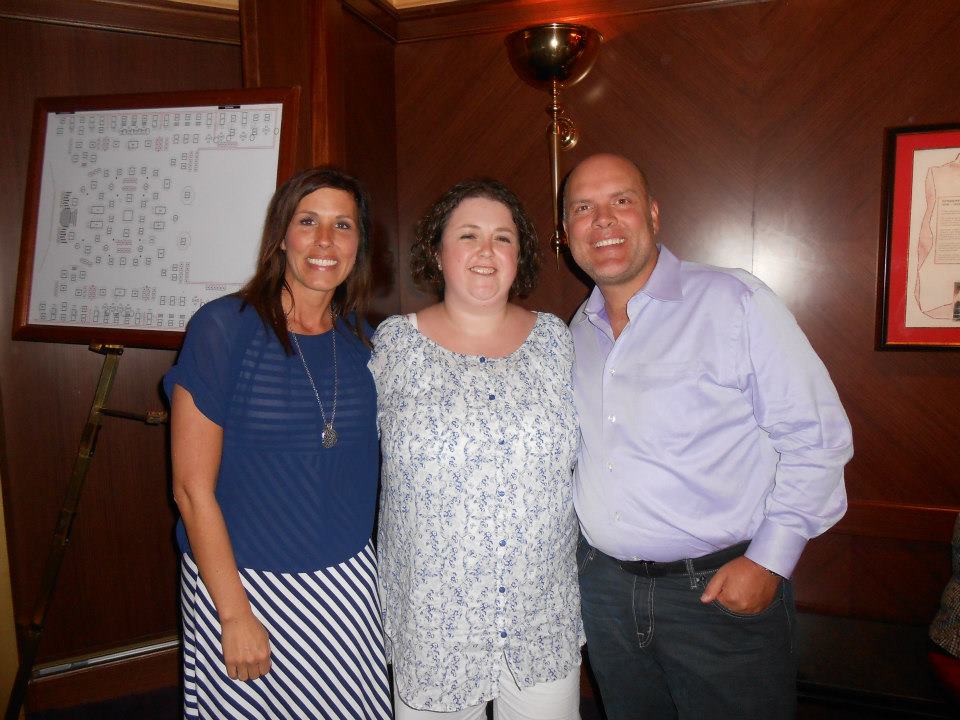 Me with Heidi and Orville Thompson on the UK's first Incentive Trip in May 2013 (a Mediterranean cruise).
November Scentsy Starter Kit Offers
The Scentsy Starter Kits
Everything you need to start your business, you have a choice of two starter kits to join Scentsy with.
An Amazing Full Size Scentsy Starter Kit
£85 / $99 USD / $129 CAD / $150 AUD / $169 NZD / 99€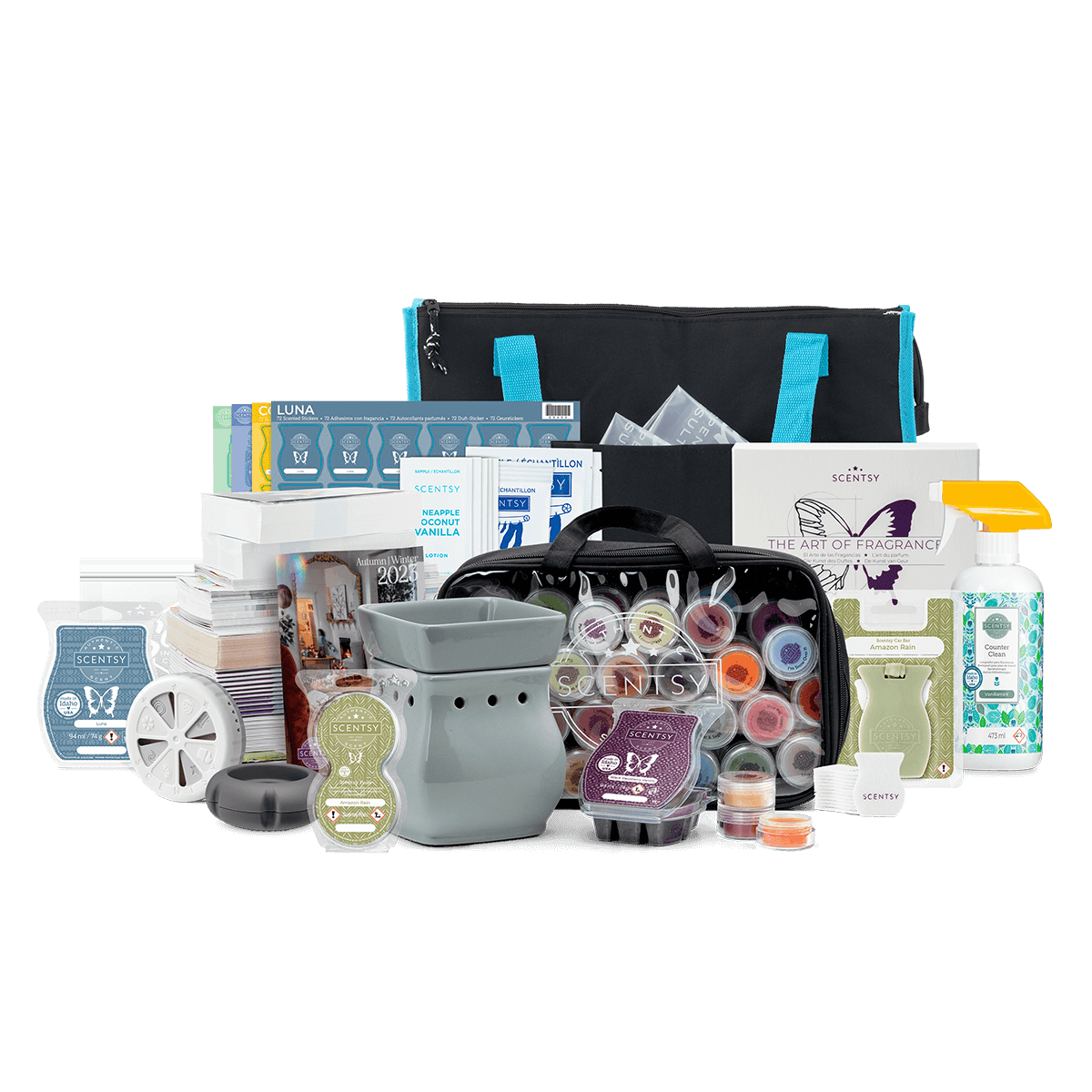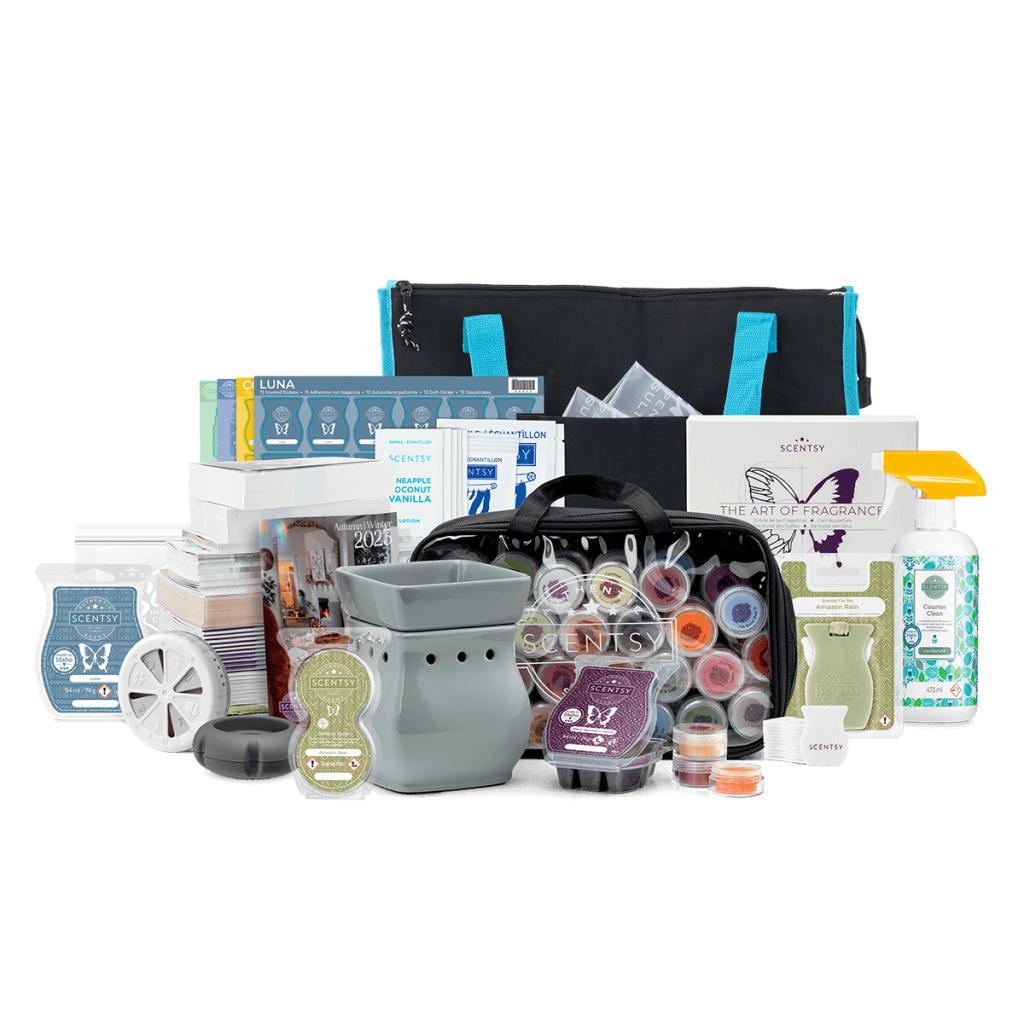 Kit contents

Classic Curve – Gloss Gray Warmer
Black Raspberry Vanilla Scentsy Bar
Luna Scentsy Bar
Slate Mini Fan Diffuser
Amazon Rain Scentsy Pod Twin Pack
Vanillamint Counter Clean
Amazon Rain Car Bar
Vanilla Bean Buttercream Travel Twist
Coconut Lemongrass Scented Stickers (1 pack of 72 stickers)
Luna Scented Stickers (1 pack of 72 stickers)
Eucalyptus Lavender Mint Oil Scented Stickers (1 pack of 72 stickers)
Jasmine White Tea Oil Scented Stickers (1 pack of 72 stickers)
Sample Packette Bundle (Laundry, Body, Clean)
Classic Curve Felt Samples
The Art of Fragrance training kit
Autumn/Winter 2023 Tester Set
Consultant Guide
Product Training Guide
Autumn/Winter 2023 Catalogues (1 pack of 20)
Autumn/Winter 2023 Product Lists (1 pad of 50 sheets)
Host/Join Brochures (1 pack of 20)
Order Forms (1 pack of 50)
Invitation Postcards (1 pack of 100)
Thank You Postcards (1 pack of 100)
Merchandise Sacks
Mini Zip Sacks
Starter Kit Exclusive Insulated Tote
Actual contents are subject to change without notice.
Value Starter Kit For UK
Available for Only £50 Including shipping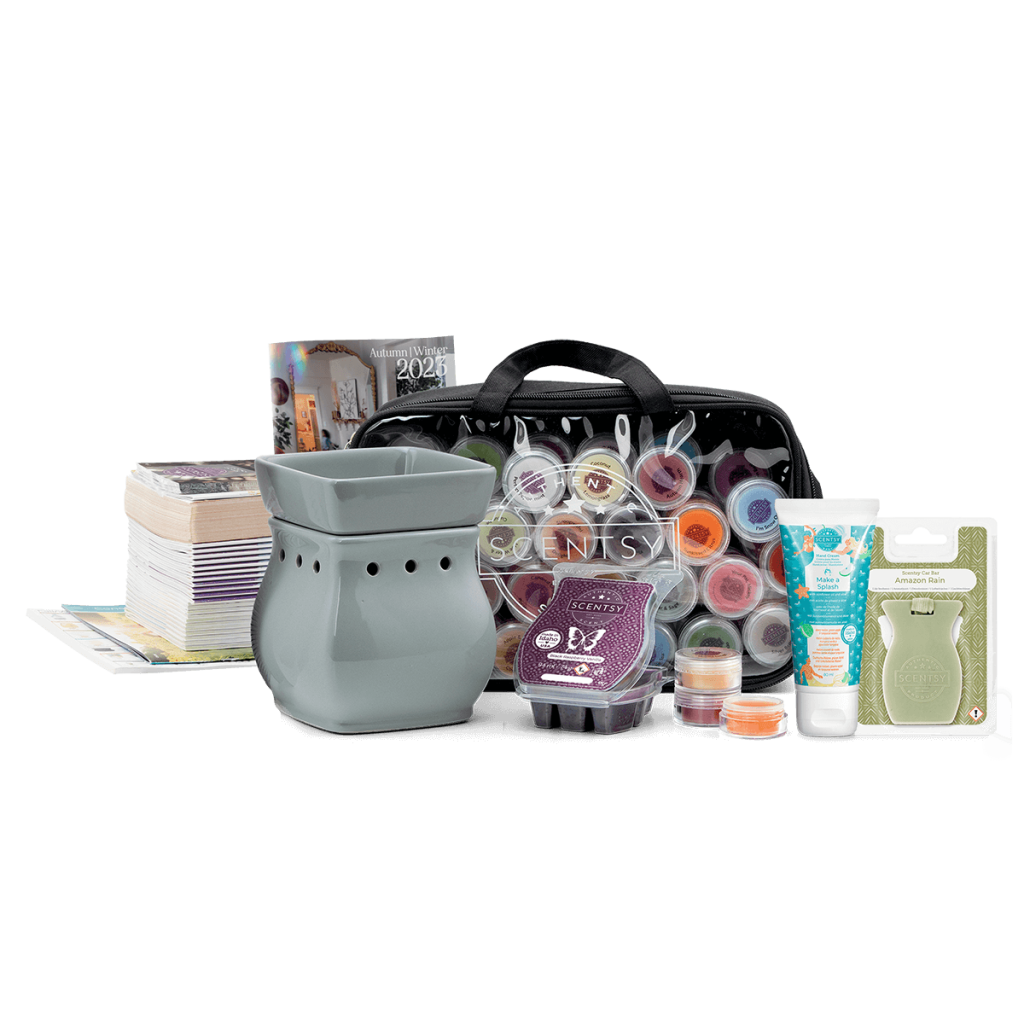 Kit contents
Vistaprint Starter Kit Card
Welcome Card
Autumn/Winter 2023 Catalogues
Consultant Guide
Host/Join Brochures (1 pack of 25)
Order Forms (1 pack of 50)
Product Training Guide
Quick Start Guide
Autumn/Winter 2023 Product Lists (1 pad of 50 sheets)
Amazon Rain Car Bar
Classic Curve – Gloss Gray Warmer
Luna Scentsy Bar
Make a Splash Hand Cream
Autumn/Winter 2023 Fragrance Tester Set

Actual contents are subject to change without notice.
Become a Scentsy Consultant in the UK, Ireland, Germany, Austria, France, Spain, Australia, New Zealand, USA, Canada and Mexico
Do you have friends or family that may be interested in joining Scentsy? Do you love Scentsy and know they will to? Please pass on my email address if they would like any information regarding joining Scentsy.
If you have any questions at all regarding any aspect of Scentsy, please contact me today here or call Free Phone 0800 772 0656
Visit, like and share my Facebook page https://www.facebook.com/x.The.Candle.Boutique.x
You may also be interested in:
We try to provide answers to frequently asked questions that consultants have about Scentsy.
Scentsational Start Award The Scentsational Start Scentsy Awards are for new consultants to earn in their first 70 days of being a Scentsy Consultant. What do awards have to do with reaching your goals? Consultants who earn these awards are…
The Scentsy Shooting Star Kit is a reward for new consultants to earn. The requirement is that you sell 500 PRV (Approx £600) within your first 15 days of being a consultant. You then have the opportunity to purchase the…
Whether you aspire to become a consultant or are already a consultant, you'll discover that this page contains all the essential guidance from Scentsy that you require.
The Scentsy Scentsational Start Programme The Scentsy Scentsational Restart Summer Incentive has been announced! When you join Scentsy, you have 70 days to earn your Scentsational Start rewards.  This reward is open to anyone who joins Scentsy worldwide.  To…
Join Our Mailing List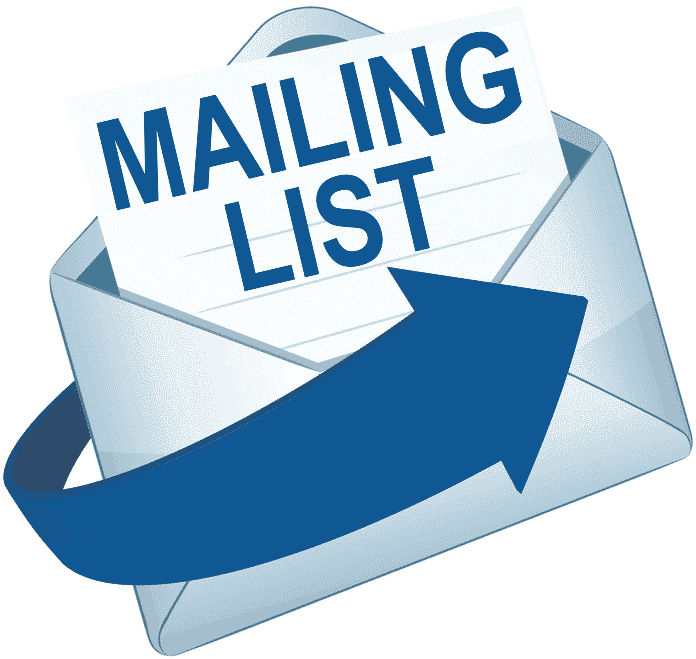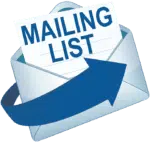 Receive Special Offers from both us "The Candle Boutique" and Scentsy, plus sneak peaks of new products and general Scentsy news.
You can unsubscribe at anytime
Discover More

Blog Categories


Blog Archives