Scentsy Sale – 10% Off – Throughout February 2015
February is here! I cannot tell you how happy saying that makes me!!
It means my baby is going to be born next month – I cannot wait to finally meet the wriggling monster that already keeps me awake all night 🙂
Secondly, February is such a big month in Scentsy's calendar! So where do I start with what is happening this month…
10% Off Scentsy Sale
Well everyone loves a bargain, so we will start with the sale.
This month is 10% throughout our Autumn/Winter catalogue (of course so exclusions apply – but the majority of the catalogue is reduced in price). As you can see from the image below, now is the time to stock up on some of your favourite Scentsy bars, or treat yourself to a new warmer:-
So for example, if you have had your eye on the Scentsy Love warmer (especially if you have been dropping hints for Valentine's Day), then now is the time to treat yourself. Normally this warmer is £28.00 but for this month only it is £25.20! The 10% sale also applies to the multi-pack of bars, so if you fancy stocking up on some of your favourite bars, a 6 pack of Scentsy bars which is normally £27.50 is this month reduced to £24.75.
Remember, if you would like to place an order, you are welcome to email me directly to sales@thecandleboutique.co.uk and ask about my special on shipping rates.
Scentsy Autumn/Winter Discontinued Fragrances – Grab Them While You Can!
Sadly, this month we will say goodbye to some fragrances and warmers from our collection.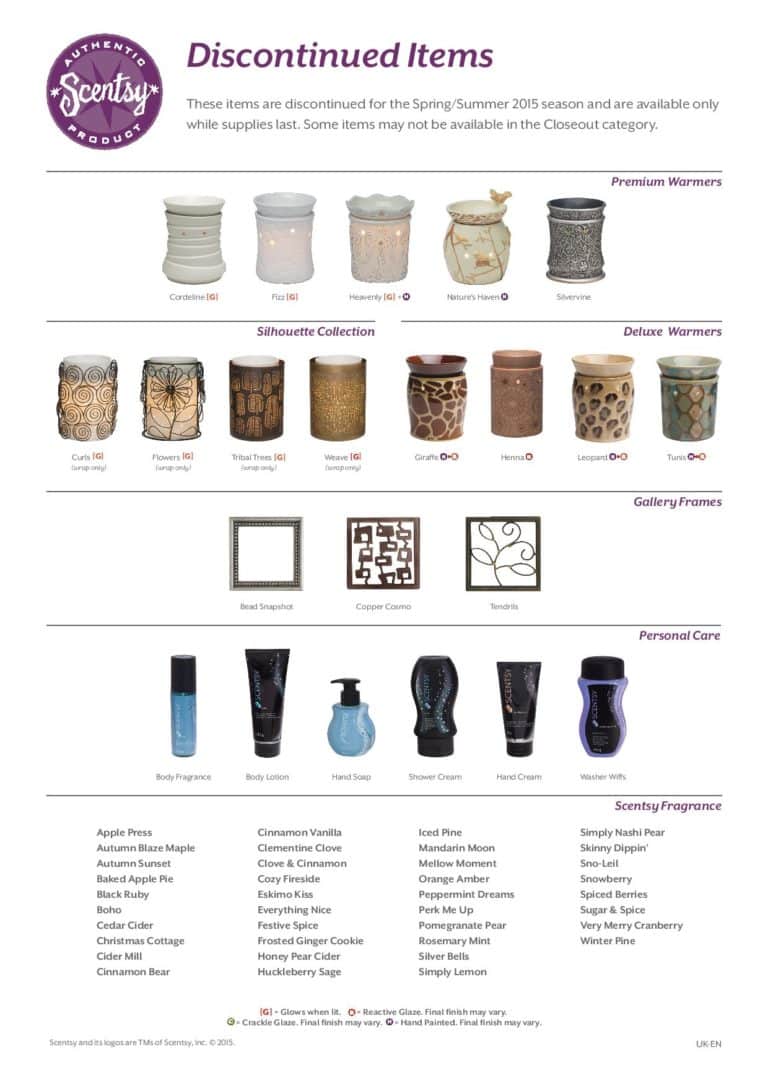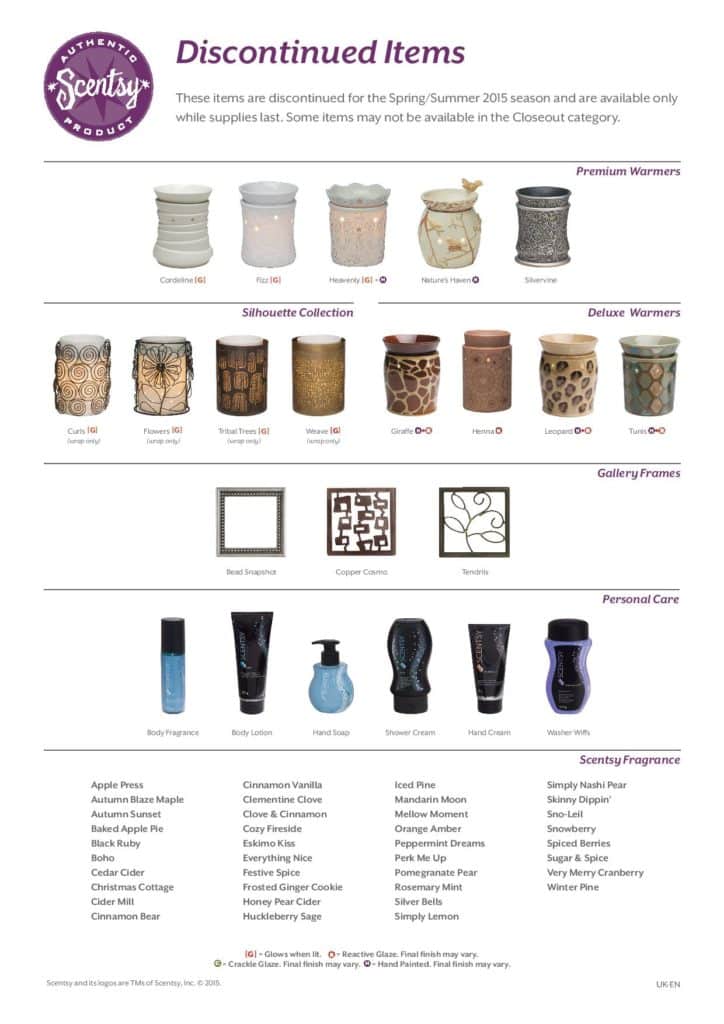 I am really sad to see Fizz leave our catalogue. That warmer has been in the Scentsy catalogue since I joined in 2011 and at the time, was our best selling warmer by far. We will also be saying bye to the Scentsy Baked Apple Pie wax bar, which again is a Scentsy classic and I have always known it to be in the catalogue. The other main loss to the catalogue will be the Scentsy Bath and Body range, together with the Washer Whiffs. I personally love the shower cream (especially the Skinny Dippin' fragrance) and the Linger Body Fragrance, so I will be treating myself to a stock of these!
February Scentsy Joining Offer – A Bumper Starter Kit
Finally, this month Scentsy has a fab joining offer. If you have been thinking of joining Scentsy for a while, or would like to explore the chance to work from home and run your own business, then now is the perfect time to join Scentsy.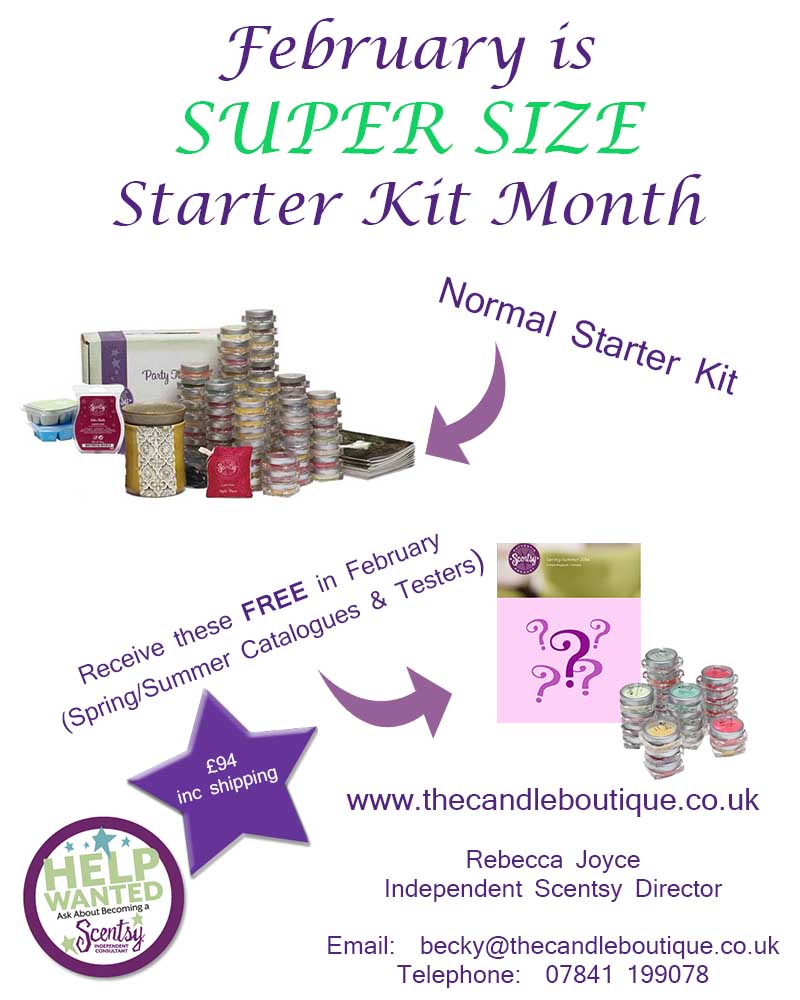 Those who are familiar with Scentsy will be aware that on the 1 March 2015, our new Spring/Summer 2015 will be unveiled. This means that everyone who joins Scentsy (in any of the countries we are open in), will receive our super-size starter kit. This kit will include the current Autumn/Winter 2014 catalogues and fragrance testers and also the new Spring/Summer 2015 catalogues and fragrance testers, all for £94/€109 including shipping.
The additional bonus of joining Scentsy this month is that we have the 10% sale. Even though Scentsy has been open in the UK now for nearly 4 years, so many people are yet to hear of our products. By joining now, you will be introducing this fast growing company to brand new people with a 10% discount – this is such a good chance to build your customer base from the beginning!
If you would like to receive an information pack regarding joining Scentsy and my team, you are welcome to email me becky@thecandleboutique.co.uk where I am happy to answer any questions you may have.
Want to keep up-to-date on all the Scentsy news? Visit my Facebook page.