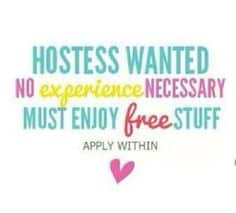 Calling All Scentsy Fans – Double Hostess Rewards This Month
I know we are 10 days in but as this is my first blog of 2015, I would like to wish all my customers and team members a very happy 2015!  I hope everyone had a scentsational Christmas.
I had a very busy lead up to Christmas with Scentsy, so treated myself to a few days off after Christmas which was lovely.  My little girl is 6 now, so Christmas was very special and exciting in our house this year.  Also it was the last year when it will only be the three of us, as in just 2 (hopefully short) months, we have a very special delivery due 🙂
So 2015 is here and I am excited about what is ahead, both personally with our new addition, but also with Scentsy and for my team.  Year on year, the awareness of Scentsy is increasing and if people have not necessarily heard of the name Scentsy, they usually are aware of the "electric candle pots".
If you are already a big Scentsy fan, or if you have just heard about our products, how do you fancy earning yourself some half-price and free Scentsy products?
How Do I Earn Half-Price and Free Scentsy Products?
Everytime you host a qualifying Scentsy party, whether it is a traditional home party, basket party, online Facebook party or catalogue party, you will earn yourself some rewards.
A qualifying party is £150 and more in orders and the chart below illustrates the rewards you could earn, just by sharing the products with your friends and family.


So for example. if you host a party and your accumulative party orders total £180, you would earn yourself one half-price item and £18 in product credit!!
It Get's Better!!
If you host a Scentsy party in January 2015, you will receive DOUBLE the half-price items!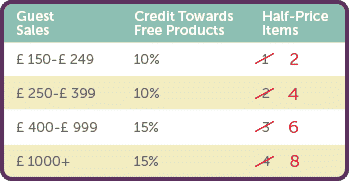 So for this month, if you host a party achieving £180 worth of accumulative orders you would receive two half-price items and £18 in product credit!
If you live in Ireland, Spain, France, Germany, Italy, Luxembourg, Austria or Poland, you can also receive double-hostess rewards when partying with Scentsy!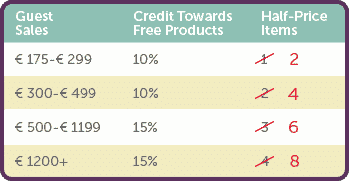 Would You Like a Scentsy Party?
If you would like to take advantage of the extra half-price products, please contact me as soon as possible and we will arrange your party.  This can either be a home party, basket party (where I would loan a warmer and fragrance testers to you for a 10 day period – deposit required), online Facebook party or catalogue party – there are so many ways to party with Scentsy.  My email address is becky@thecandleboutique.co.uk or you contact me via my Facebook page.