Where Has The Summer Gone??
The Scentsy Autumn/Winter 2014 Catalogue is Here!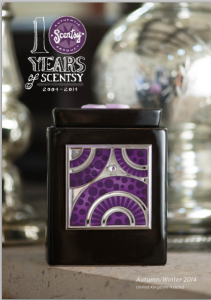 I am so sorry I have been so quiet.  It has been a crazy summer in the Joyce household.
Normally our summer involves visiting our local children's farm every other day but this year we have been fortunate to have spent two weeks of it abroad.  My and my daughter spent one week with my parents who live in France and then 2 days after we got home we had a family holiday in Gran Canaria.  It is about 16 years since I was last there on a girlie holiday and bizarrely it hasn't changed at all!  I hope everyone has had a lovely Summer?
As we begin September, this means only one thing in the world of Scentsy – a brand new catalogue!
I was lucky enough to see our brand new warmers in the flesh last month at our Scentsy Family Reunion in Manchester and I have to say that once again Scentsy have captured the latest trends.
We do seem to have had a very short summer this year and this has been highlighted by the fact that for the last month or so I have been asked by so many customers for warm, cinnamon fragrances.  Scentsy have definitely answered those wishes with our new fragrances, plus seeing the return of some of our most popular winter scents.
Brand New Scentsy Autumn/Winter Scented Wax Bars
Autumn Blaze Maple – A bountiful harvest of crisp apples and earthy pumpkins with golden maple syrup, warm cinnamon and a ribbon of smoldering oak.
Autumn Sunset – Apples, pumpkins, autumn leaves and spices – a top 10 fragrance.
Black Ruby – Juicy-sweet plum, black cherry and sparkling persimmon with untamed vanilla and hibiscus – a luminous, deep fragrance.
Boho – A bohemian fragrance of clove-studded winter apples entwined with juicy black plums, candied mulberries and cinnamon sticks.
Business Casual – A fusion of exotic cardamom, intriguing caraway, lively pepper and fragrant woods with a powdery wisp of orange blossom.
Cedar Cider – An autumn medley of the reddest apples, cinnamon sticks, and vanilla beans nestled among fragrant white cedar branches.
Christmas Cottage – A cosy, inviting blend of Valencia oranges, raspberries, cloves and spices.
Cider Mill – Brings together fresh apples, crushed pumpkin and simmering spices for a cosy autumn treat.
Cinnamon Bear – Crisp, spicy cinnamon with a touch of cloves.
Cinnamon Vanilla – Inviting blend of vanilla beans, cinnamon, coconut and cassia.
Clementine Clove – A bright medley of aromatic citrus with clove and a hint of balsam.
Clove & Cinnamon – Classic scent of cinnamon sticks fused with cloves.
Cozy Fireside – Warm spice notes with zesty ginger and cinnamon.
Crumb Top – The perfect blend of oats, butter and brown sugar to top your favourite dessert.
Eskimo Kiss – Blackberry jam, caramelised brown sugar, vanilla and amber in a softly romantic scent.
Everything Nice – Sugar and spice and everything nice; deep caramel and swirls of butter with roasted pumpkin and glazed pecans.
Festive Spice – A fragrance rich with winter spices and dark woods, lightened with a fresh twist of citrus.
Frosted Ginger Cookie – Chewy brown sugar biscuit spiked with warming ginger and fragrant vanilla.
Honey Pear Cider – The scent of pure autumn bliss – fresh, juicy pear and sweet honey together with subtle hints of spices.
Huckleberry Sage – Like finding an unexpected winter berry patch – tart ruby cranberries and sweet purple huckleberries dusted with silver sage.
Iced Pine – As refreshing as a walk through newly fallen snow:  green fir and pine, kissed by icy peppermint.
Love You Berry Much – A fragrance to crush on: bursting red berries, dreamy white peach and tart cranberry finished with a splash of vanilla.
Mandarin Moon – Spirited cinnamon and glowing ginger illuminated by sweet orange and star anise.
Orange Amber – An alluring blend of bitter orange and clementine, exotic wild ginger, cosy cardamom and sultry amber.
Peppermint Dreams – A warm rush of chocolate cupcake, sweetness cooled by a blast of fresh mint.
Pomegranate Pear – Sweet nashi pear garnished with violet petals, pomegranate seeds and curls of orange zest.
Salted Caramel Cupcake – Creamy golden caramel with hints of cocoa and delicate pink sea salt crown a buttery cupcake.
Shimmer – Get your girly-girl on!  Sweet cherries, velvety apricots and sensual white musk crowned with a tiara of shimmering spun sugar.
Silver Bells – Icy peppermint candy canes dance over warm and welcoming winter pear and crisp apple, all enveloped in a velvety blanket of caramel and vanilla sugar.
Sno-Leil – A merry melange of sparkling citrus, iced nashi pear and decadent marshmallow mousse.
Snowberry – A luscious blend of loganberry, strawberry, peppermint and zesty cinnamon.
Spiced Berries – Frankincense and myrrh waft beneath decadent berries to create a timeless scent.
Sugar & Spice – Treat yourself as a crunchy candy coating gives way to a black liquorice filling; herbal and sweet.
Sunny & Share – A sunny shore washed clean by a spring shower – soft sea air, golden citrus and dewy driftwood scattered with white beach daisies.
Very Merry Cranberry – Lush red winter berries pop against a backdrop of snow-covered cedar creating a lovely winter landscape.
Winter Pine – Frolic in a forest of evergreens as fir needles falls amongst aromatic white cedar and musk with a wintry whisper of citrus.
I am very excited about this catalogue, what do you think of the new fragrances?  Any on your "must try" list?
If you would like to place an order, please email me sales@thecandleboutique.co.uk for details of my shipping rates.