Have A Spooky Halloween With Scentsy
Decorate Your Home This Halloween With A Scentsy Warmer
Do you love or hate Halloween?
Ok, so I have to confess, I used to hate Halloween.  I have always been uncomfortable with children knocking on stranger's doors asking for sweets, but I have to say this does not seem to happen so much now where I live.
Since having my daughter, I have enjoyed watching the excitement on her face whilst she dresses up in her witches outfits.  We have a tradition now where we go down to our local recreation farm (full of animals, fun rides and playcentre) where they have lots of organised activities such as pumpkin carving, story telling with a witch and  monster ball.  I actually look forward to Halloween now which I never thought I would say!  When she gets too old to go to the farm, I am looking forward to having a Halloween party for her and decorating the house.
If you love your Scentsy warmers and Halloween, we have some fab warmers to decorate your home with this year, the best bit is they would look great in a boys (or girls) bedroom all year round!

Introducing the Scentsy Halloween Warmers 2014
Starting with my favourite warmer in this range, we have quite possibly the cutest spider ever:-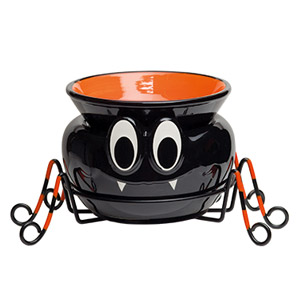 Itsy Bitsy Spider Scentsy Warmer
Itsy Bitsy spins a whimsical web of Halloween fun. This three-piece Element Warmer consists of a warmer base and dish that rest on metal legs.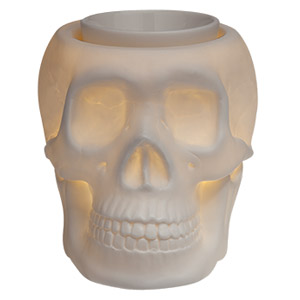 This eerie glow of this spooky porcelain skull will haunt your Halloween space and delight trick-or-treaters. Crafted of unglazed porcelain.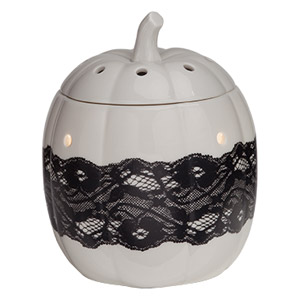 Black lace on a glazed white porcelain pumpkin add elegance and sophistication to harvest and Halloween décor.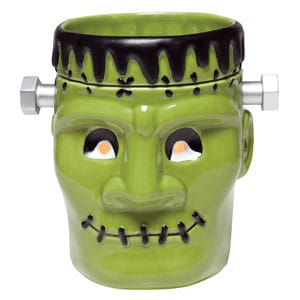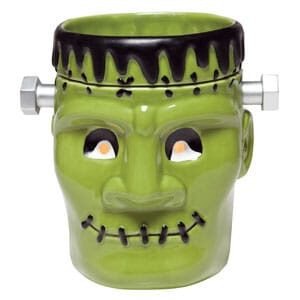 This is one monster you'll want to let in the house. Green and ghoulish, He's Alive! has all the details that made Frankenstein famous (but with a little more charm).
Want to know the best thing?  This guy is in our "sale" section, so be quick!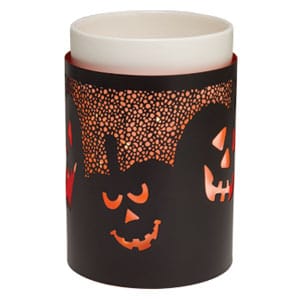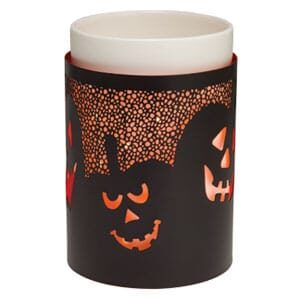 All Hallows Scentsy Silhouette Collection Wrap
Menacing, mirthful jack-o-lanterns in an eerie pumpkin patch shine through in All Hallows.
Wrap only but warmer can be purchased as part of a combine and save pack.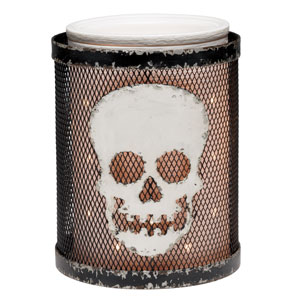 Bones Scentsy Silhouette Collection Wrap
Simply designed — and simply scary — Bones is a ghostly, unearthed skull on a matte black, distressed wire wrap. Slip it over your Silhouette Warmer for an instantly frightful look.
Wrap only but warmer can be purchased as part of a combine and save pack.
Scentsy Halloween Wax Fragrances – Creating A Spooky Atmosphere!
So now you have picked your Halloween warmer, you will need to team it up with the perfect fragrance to create that spooky atmosphere.  When you think of Halloween, pumpkins are the first thing to spring to mind (well for me anyway), so below I have listed a couple of wax bars which I think are perfect for this season:-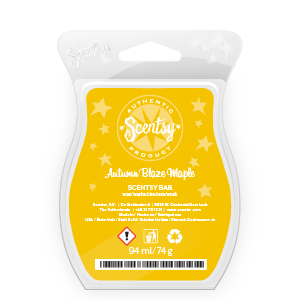 Autumn Blaze Maple Scentsy Bar
A bountiful harvest of crisp apples and earthy pumpkins with golden maple syrup, warm cinnamon, and a ribbon of smoldering oak.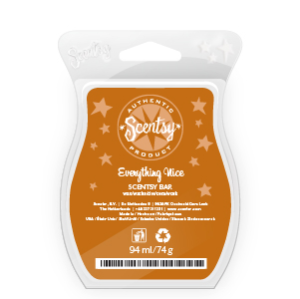 Sugar and spice and everything nice: deep caramel and swirls of butter with roasted pumpkin and glazed pecans
As always, if you would like to place an order, you are welcome to order via my website www.thecandleboutique.co.uk or email me directly at sales@thecandleboutique.co.uk for details of my special shipping rates.  Alternatively you can visit me via my Facebook page.