New Scentsy UK & Ireland Warmers – Autumn/Winter 2014 Catalogue
Scentsy Warmers Are Right On Trend
Following on from my recent blog showcasing the new Scentsy fragrances, I thought it would be good to show you our new Scentsy warmers.
Scentsy always try to capture the latest trends with their catalogues.  Last year it was all about the owls and this is reflected by the very fast selling warmer Whoot.  This year we have the Vintage Teapot.  When looking online for teapots, this style is very popular, in fact one famous shop has a vintage teapot which is virtually identical in design.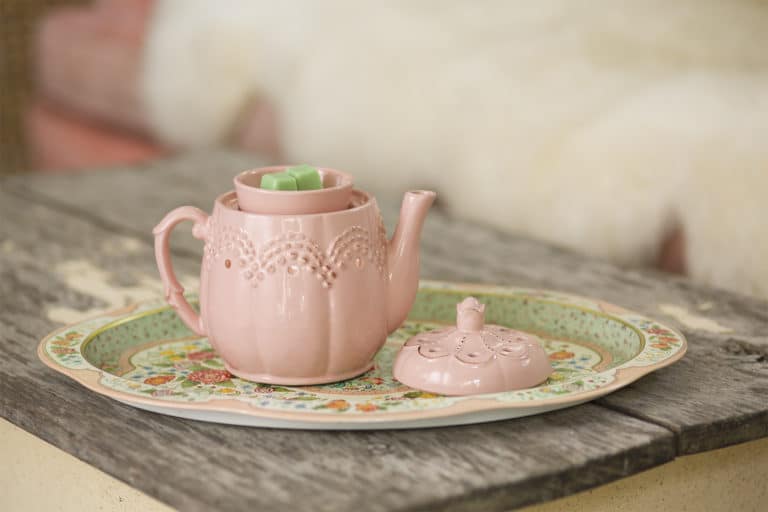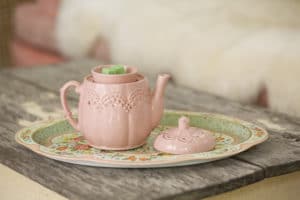 Scentsy Silhouette and Gallery Collection Warmers
With every new catalogue, one of the first things I look forward to is the introduction of the new frames and wraps for our Silhouette and Gallery range.  As you will see below, we have the addition of lots of new designs!
I am really loving the Scentsy Bead Snapshot Frame for the Gallery warmer.  If you are familiar with Scentsy, you may remember the Snapshot warmer from our previous catalogue, this where you could slide one of your favourite photos into the front of the warmer.  Well Scentsy have adapted this concept for two of our most popular warmers.  This now means that you can personalise either the Ebony Cube or Gallery Cream warmers with photos of your friends, family or pets.
Scentsy Premium Warmer Range
Below is a brief overview of some of the new warmers which can be seen in our Premium range.  Throughout the next 6 months I will preview these warmers in more detail.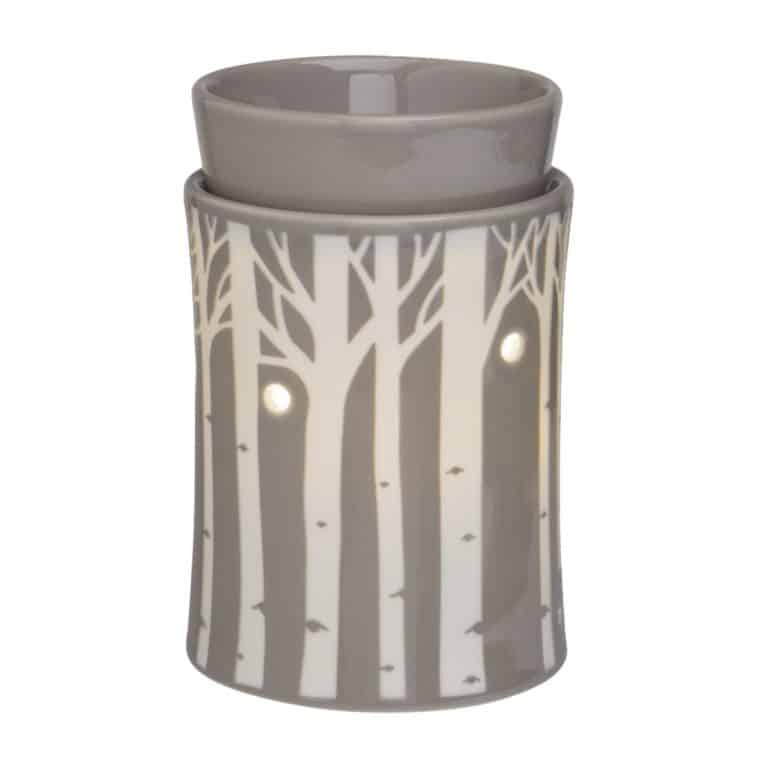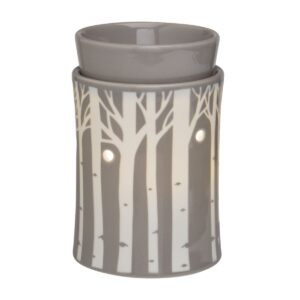 Bask in the serene glow of soft morning light filtering through a forest of aspen trees on a muted gray base.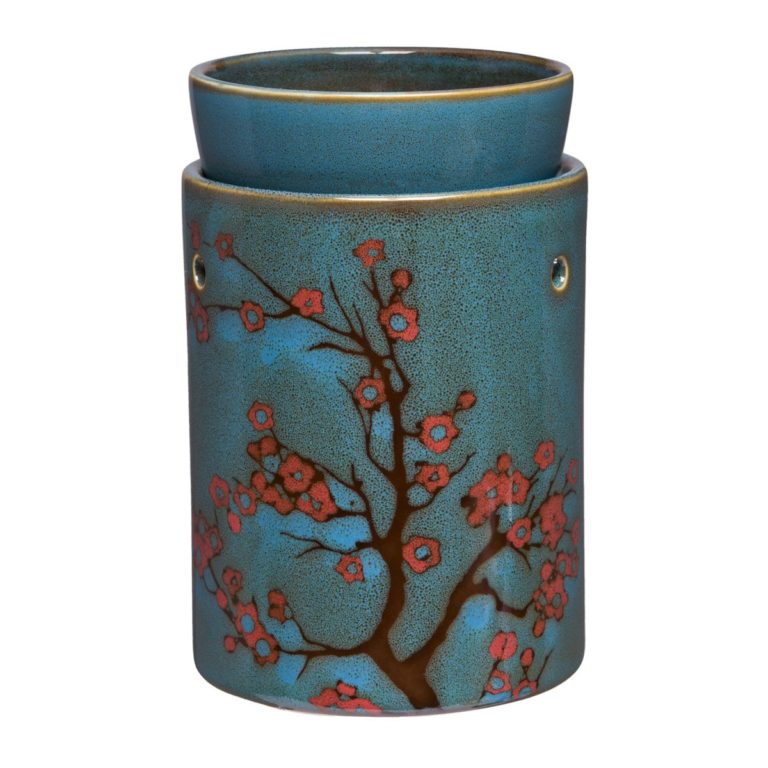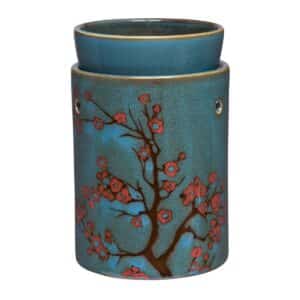 CHERRY TREE SCENTSY WARMER PREMIUM
Simple and subdued, Cherry Tree awakens memories of spring festivals while triggering the promise of new life.

FREE SPIRIT SCENTSY WARMER PREMIUM
Wrap your home in bohemian whimsy with this spirited red warmer, hand painted with fanciful flowers and swirls.

NO PLACE LIKE HOME SCENTSY WARMER PREMIUM
Welcome home! This cozy red house is complete with windows, a door and a removable black roof fitted with a skylight perfect for stargazing.

VINTAGE TEAPOT SCENTSY WARMER PREMIUM
It's teatime! This dusty pink teapot is topped with a delicate rosebud and an embossed, scalloped pattern.
Scentsy Deluxe Warmer Range
We have some lovely new warmers in our deluxe range as well.  If you love the clean, fresh feeling of a white warmer, then this is definitely the range for you.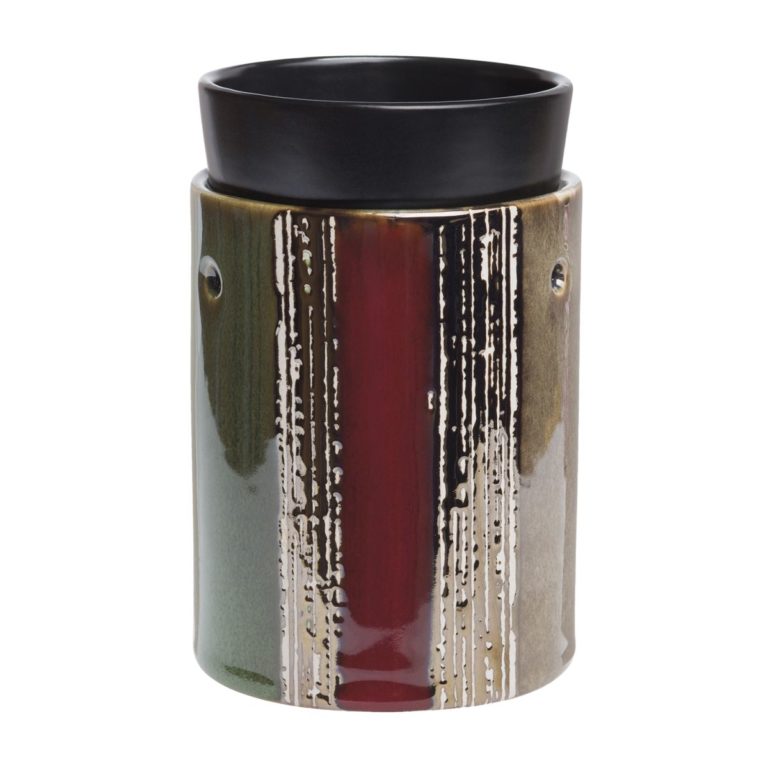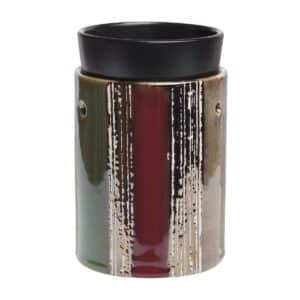 BRUSHSTROKES SCENTSY WARMER DELUXE
A multidimensional work of art, with alternating stripes of rusty red, taupe, and dark green highlighted by metallic brushstrokes.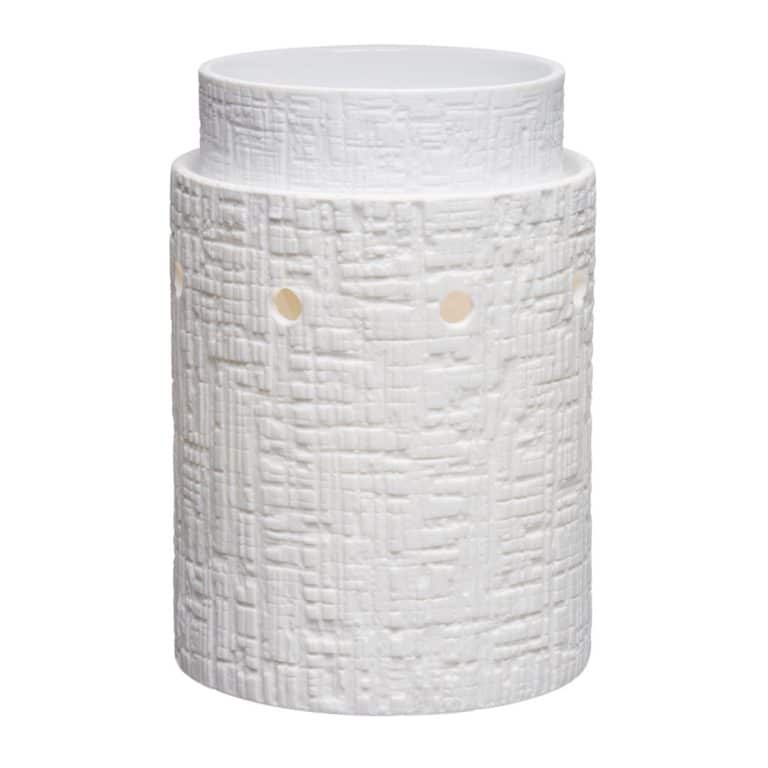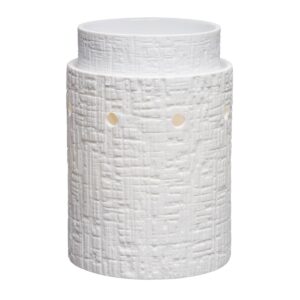 DESERT EARTH SCENTSY WARMER DELUXE
The beauty of the windswept desert captured in unglazed porcelain, illuminated by the aura of daybreak sun.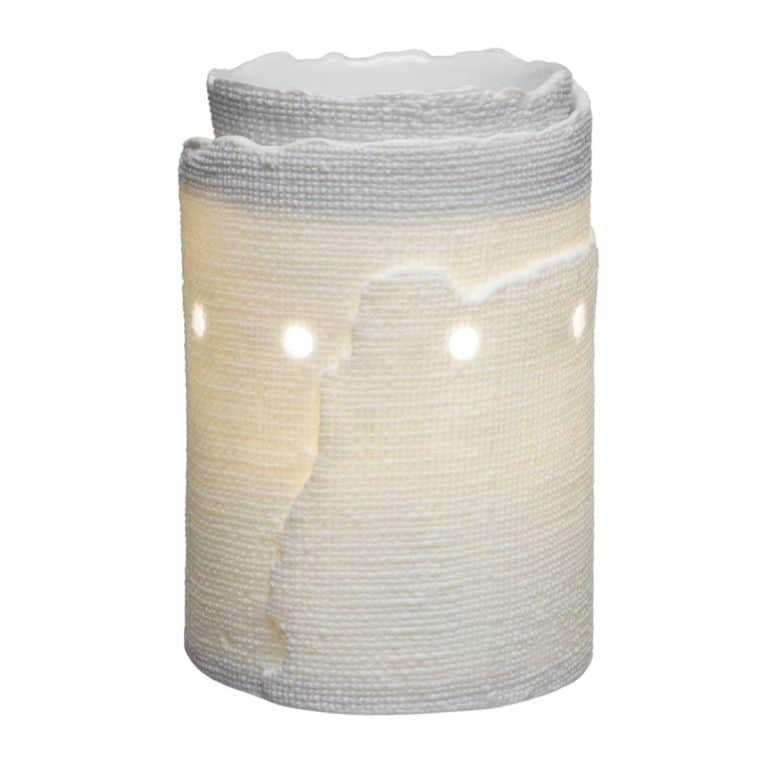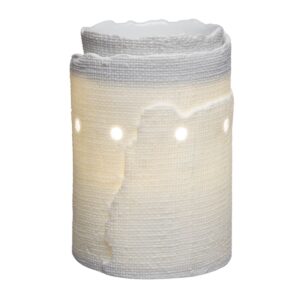 EDGE SCENTSY WARMER DELUXE
A raw-edged burlap texture enwraps a pristine porcelain warmer that glows with ethereal golden light.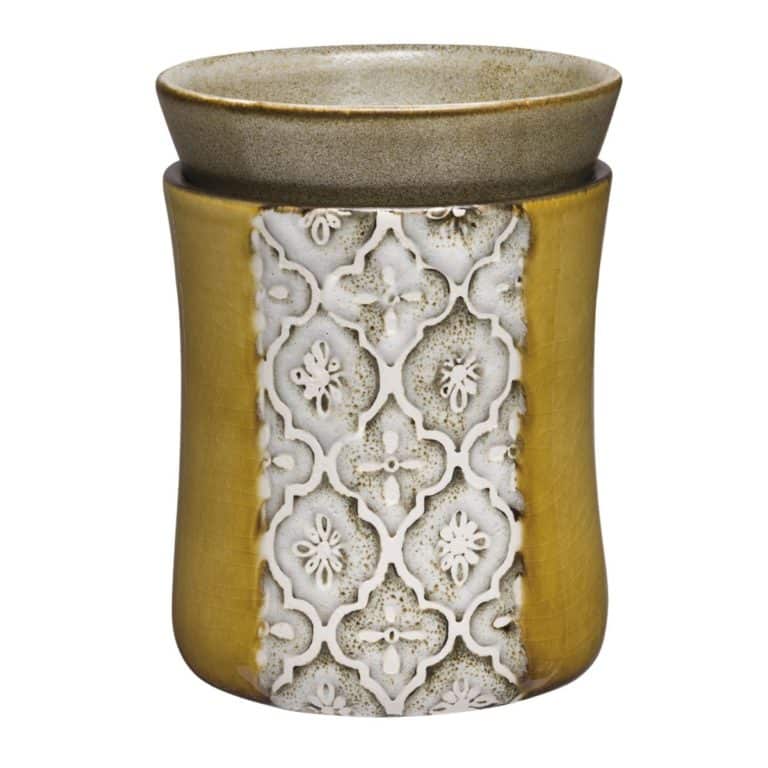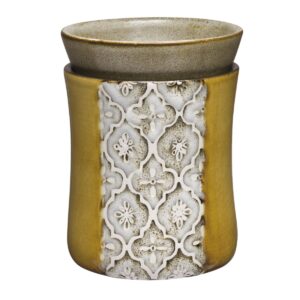 MOROCCAN STENCIL SCENTSY WARMER DELUXE
A crackled ochre glaze is the perfect backdrop for a panel of softly whitewashed gray Moroccan tiles.

SWIRLING LEAVES SCENTSY WARMER DELUXE
A secret garden of swirling teal and bronze leaves creates a lush, organic accent for any room.
Scentsy Element Warmer Range
If you are not familiar with our Element Range, then these smaller warmers are perfect if you are looking for one to put in your bedroom and don't want the interference of light whilst sleeping.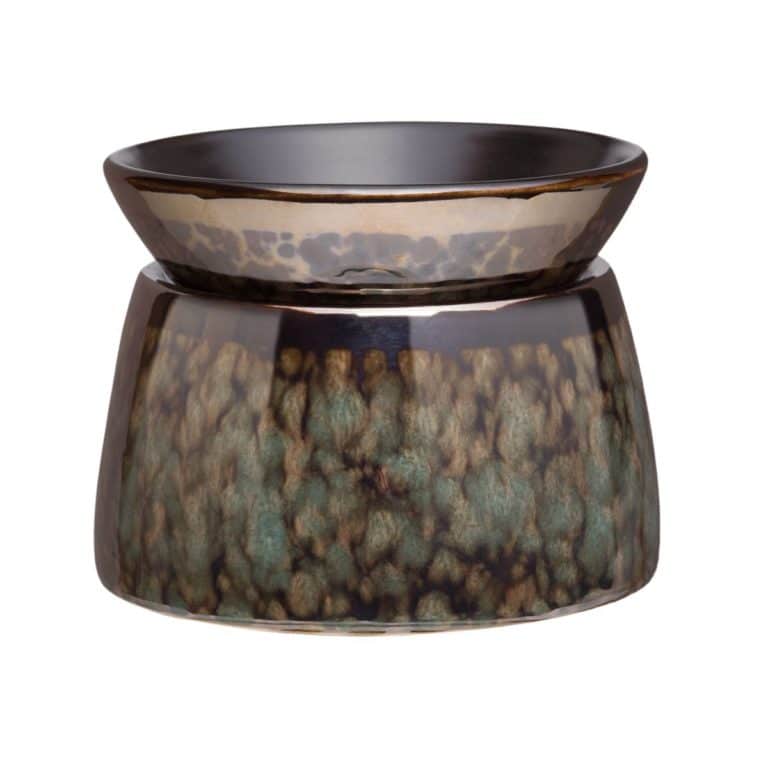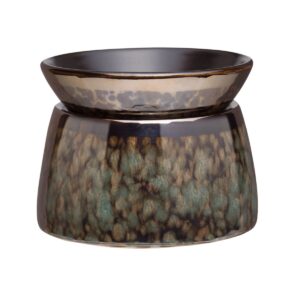 GREEN MARBLE SCENTSY WARMER ELEMENT
Smooth, cool marble tones gleam in a patina of bronze and green. Distinctive metallic glaze creates a highly reflective finish that varies with its surroundings.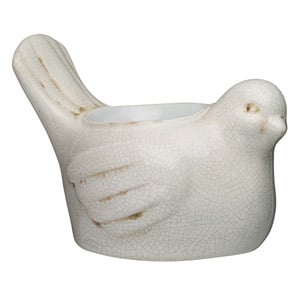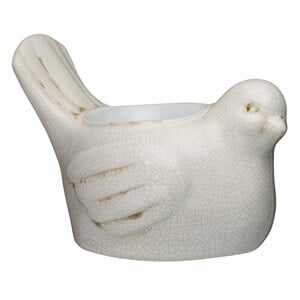 SONGBIRD SCENTSY WARMER ELEMENT
Sing along with the sweet, lilting vocals of your favorite songbird with this one-piece warmer.
If there is nothing above that catches your eye, then please remember to view our full range of warmers by visiting www.thecandleboutique.co.uk
If you would like to buy Scentsy, please email me sales@thecandleboutique.co.uk and ask for details of my shipping rates.