Scentsy's The Corner Cafe Collection
My Favourite Scentsy Fragrance Collection
I love winter!  My husband thinks I am strange as I love wrapping up in thick winter coats during the day and curling up on the sofa with my fleece blanket in the evening.  I own more pairs of pyjamas than shoes!  For me, the perfect winter fragrances are the food fragrances and my ultimate is Scentsy Frosted Ginger Cookie – I warmed it nearly every day last winter and I have just cracked open my first bar this winter!
Although Frosted Ginger Cookie is in our Autumn/Winter collection, it is definitely a food fragrance and if I had it my way would be featured all year around in the Scentsy Corner Cafe Collection.  This really is a mouth-watering collection of fragrances!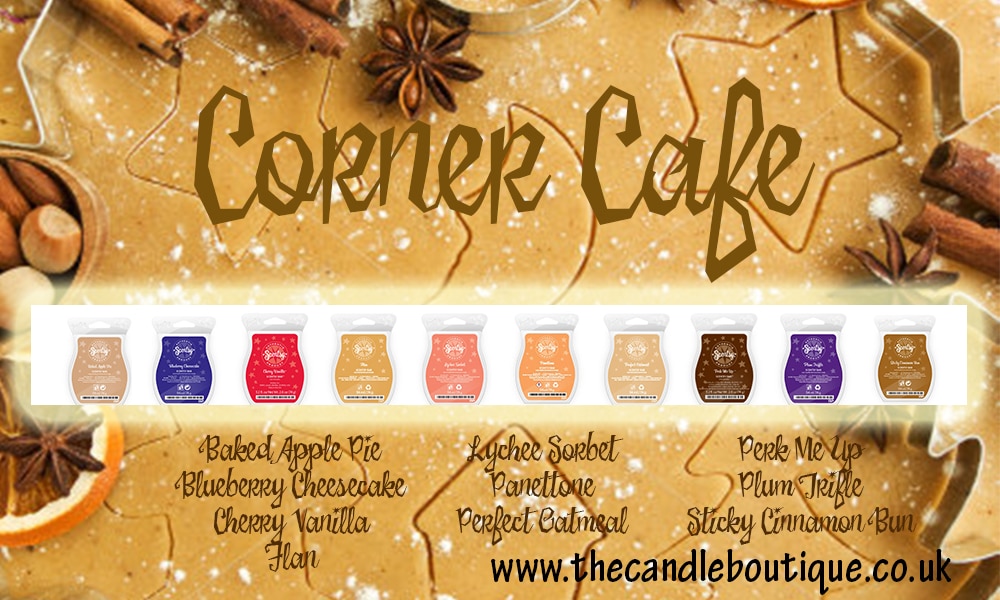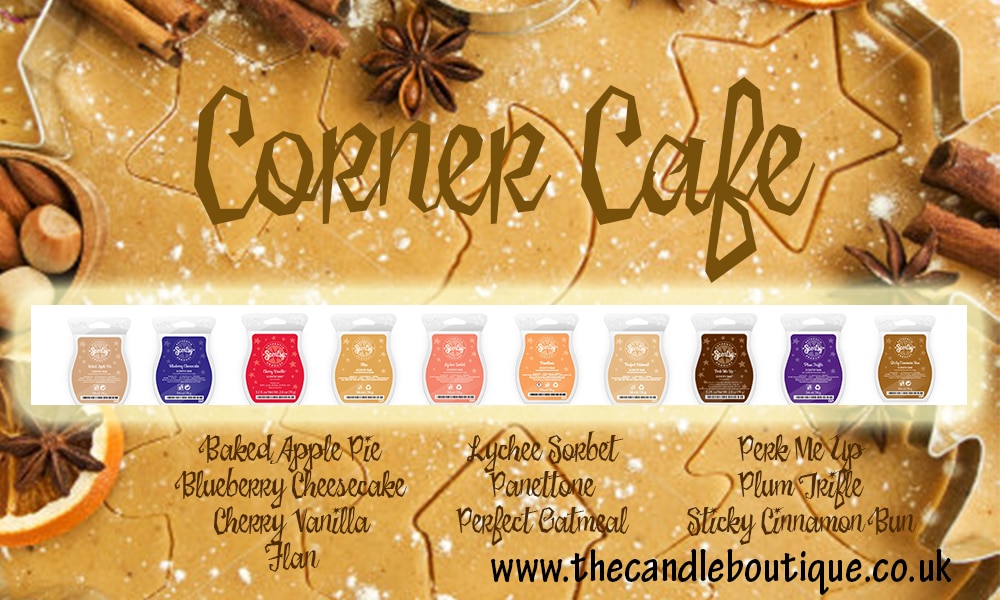 "Everything is better when you buy it at your corner café — somehow the coffee is smoother, the cinnamon rolls gooier, the pie crust flakier. Enjoy a host of delectable delicacies with our Corner Café Collection."
I recently attended a large local 2 day event and warmed "Scentsy Blueberry Cheesecake" and it was a real headturner.  As people walked past it caught their attention and made them turn around to see where the fragrance was coming from.  Nobody could resist that "Thick, rich NY Cheesecake with a light graham cracker crust and delicious blueberries"!
Baked Apple Pie has been a consistent feature in the Scentsy UK catalogue.  It's description of "Flaky crust, apples, and spices combined in a strong scent" truly does describe this scented wax and whilst it is not overpowering, it will fill a room with the scent of freshly baked apple pie.
When selling your home,  fresh coffee is said to provide a welcoming feel to a home.  Scentsy's Perk Me Up is perfect for the job!  Described as "Simply the most perfect cup of coffee you'll ever experience. A strong brew of Guatemalan coffee beans and just a touch of hazelnut", this bar will welcome perspective buyers to your home.
I absolutely love strong fragrances and usually have two cubes in my warmers but, for me personally, you only need one cube of Lychee Sorbet.  I find it is very strong, fruity and refreshing  and fills your home very quickly with the fragrance of "Icy citrus zest and tart red berry juice blended with delicate, sweet white lychee".
Need Help Finding Your Favourite Scented Wax Fragrance?
If there are any types of fragrances you really like and would like help finding your perfect Scentsy wax bar, please email me sales@thecandleboutique.co.uk and I will do my best to help you.  Alternatively, you can use the Scentsy Fragrance Finder on my website.
If you would like to place an order, please email me sales@thecandleboutique.co.uk where I can accept payment via debit card, Paypal or bank transfer.