Fundraising For MacMillan Cancer Support – May 2014
Fragrance Your Home and Raise Money for MacMillan Cancer Support
Continuing with our fundraising for MacMillan Cancer Support, May 2014's Scentsy melt bar is Simply Nashi Pear – Simply Nashi Pear is a crisp, well-balanced note of pure sweet pear.
What is a Nashi Pear?
I have to confess, when Scentsy introduced this fragrance in March 2014, I had no idea what a nashi pear was, so after a little research I discovered that nashi pear,which is also known as Asian pear, is a refreshing mixture of apples and pears, combining the shape and crispness of an apple with the speckled skin, grainy texture and flavour of a pear.
You can almost taste the pear when you smell this bar – incredibly refreshing!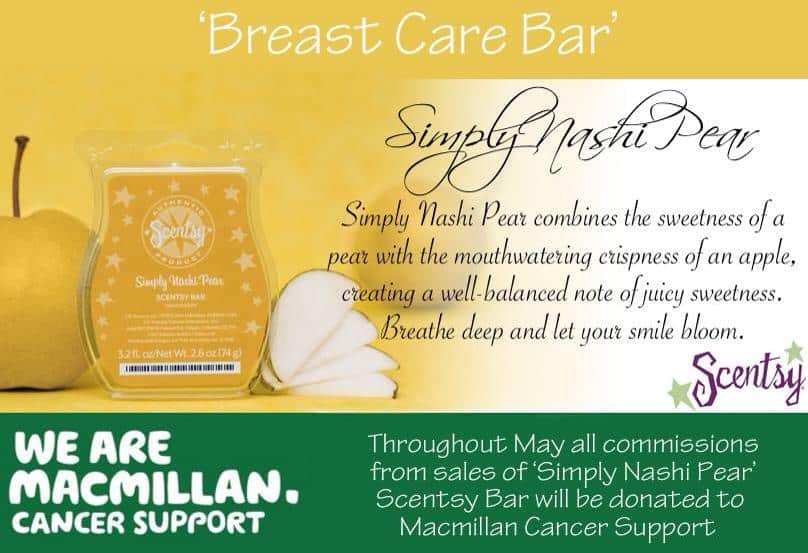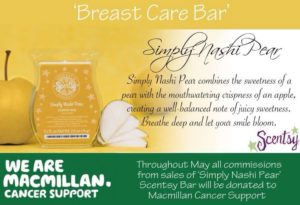 Whether you order via my website www.thecandleboutique.co.uk or via email sales@thecandleboutique.co.uk I will donate my commission (equivalent to £1.25 per bar) for every single bar in the spotlight that month.
Thank you so much for your continued support.