What Can I Get My Dad For Father's Day?
Thinking Outside The Box….
So when you think of Father's Day presents, what is the first thing that comes to mind?  Novelty socks?  A T-Shirt? Cufflinks?  Slippers?  Aftershave?  When I googled "What Can I Get My Dad For Father's Day?", it bought up suggestions as above, together with experience days, which are amazing, but not always within budget.  So, do you want something different this year?  Something that your dad, plus the rest of the family can enjoy all year round?
Scentsy Is The Answer!
Ok, so I can appreciate, if you are reading this and have never heard of Scentsy, you may tempted to instantly click off once you read that Scentsy is an electric wickless candle system – but wait!  Many men do like scented candles – they just keep it quiet!  In fact in September 2013, the male scented wax fragrance market was worth £378 million in Britain! I attend a lot of shopping events and it is not unusual for the husband to first come over to me and try the fragrances, then encourage their wife to come and have a look.  I always giggle as they then "offer" to buy their wife one as a gift, when it is easy to see that they actually quite fancy it for themselves!  Another huge selling point to men is that is as our wax warmers are electric, there is no soot, smoke or toxins released – so that means no black walls – no redecorating!
Scentsy For Men – The Scented Wax Warmers
We have lots of products styled for men in mind, take a look at the warmers below which I think are particularly styled with a man in mind.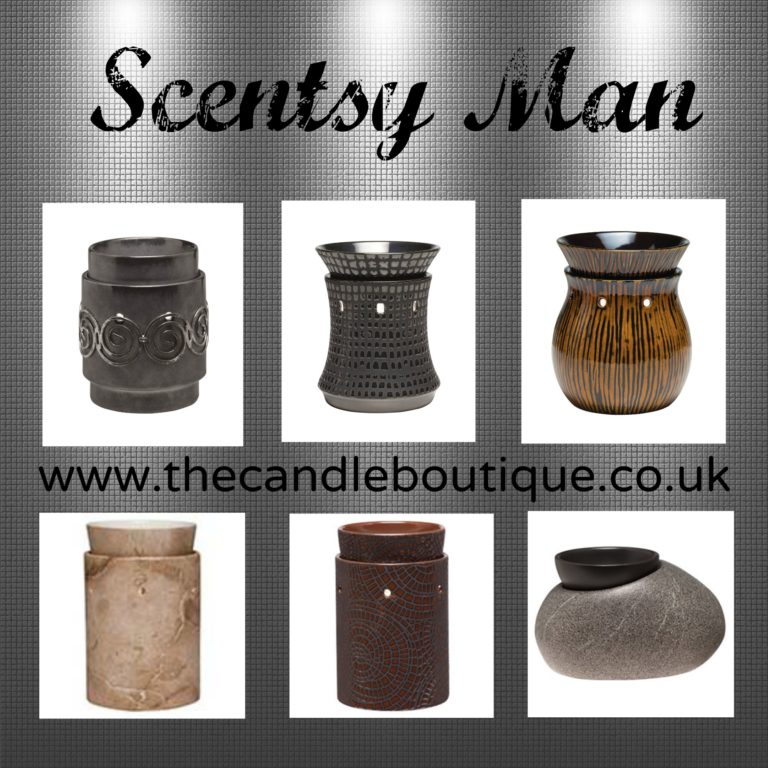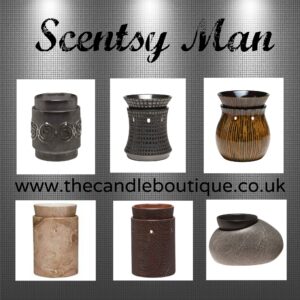 Pictured from top left to right:-
Scentsy Anvil Warmer – A warmer as dark and inky as if it had just been pulled out of a metalworker's fire, wreathed with hammered silver coils.
Scentsy Turret Warmer – Organic yet stately, the titanium finish of Turret brings to mind glass mosaic patterns unearthed in ancient ruins.
Scentsy Zingana Warmer– Sleek and exotic, Zingana's jagged lines of black streak a background of glowing ember.
Pictured from bottom left to right:-
Scentsy Travertine Warmer – The smooth, classic look of travertine is captured in porcelain, adding a warm and earthy glow when lit.
Scentsy Cobbled Leather Warmer – A swirling mosaic of burnished red ochre enhances this simple warmer with the look of cobbled leather.
Scentsy Zen Element Warmer – Inspired by tranquil spa rocks, Zen Rock combines sleek modern design with the soothing, organic tones of nature.
Scentsy For Men – The Scented Wax Fragrances
So once you have chosen the warmer, you now need to pick some fragrances to go with it.  Just in time for Father's Day Scentsy are launching our "Scentsy for Men" promotion launching on the 1st June 2014.  What makes this promotion even better is that they are bringing back retired fragrances, for a "whilst stock lasts" period at on £3 per bar (each bar gives 60 to 80 hours of fragrance).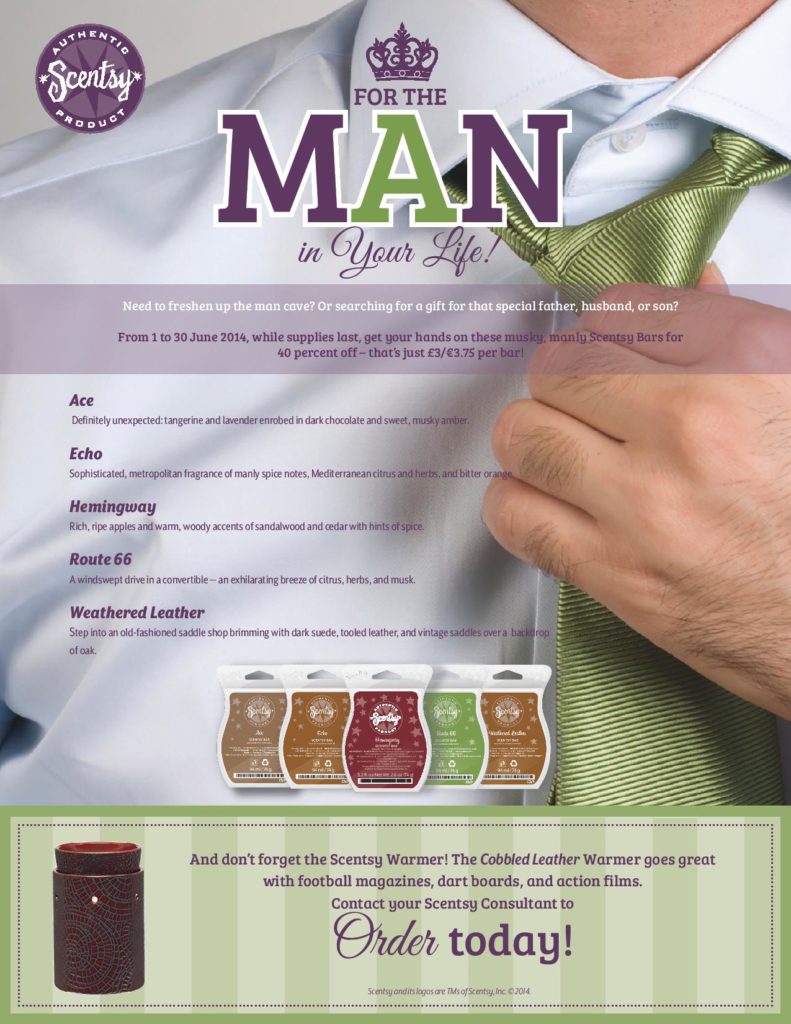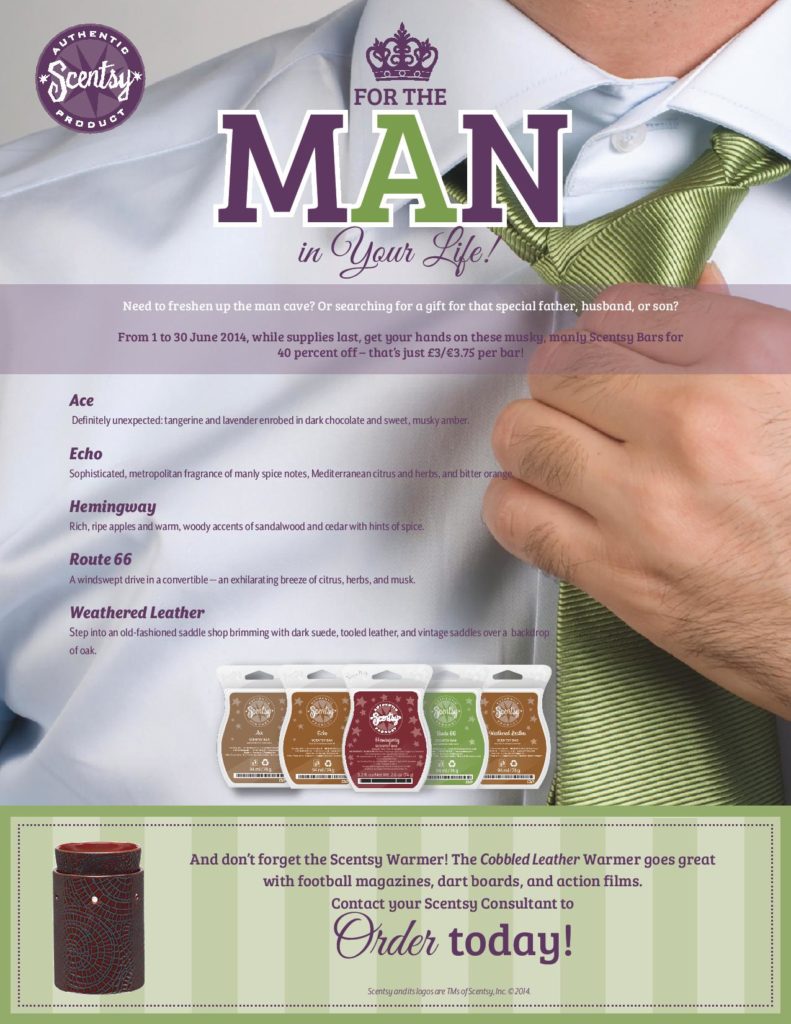 If none of these take your fancy, we also have the Scentsy Man range of wax fragrances.
In this range we have:-
Scentsy Atlas Cedar Wax Bar – Complex blend of cedar, patchouli, and a dash of black pepper: the essence of intrigue. Scentsy Irish Peat Wax Bar – The nostalgic, homey scent of a peat fire: Moss and wood set against smoldering embers. Scentsy Shaka Wax Bar – Classically cool: rich sandalwood infused with a splash of bergamot and lime.
Scentsy Suit & Tie Wax Bar – Crisp apple and vibrant citrus mixed with spirited spices and daring woods — polished, but never stuffy.
Scentsy Vanilla Suede Wax Bar – Classic vanilla with rich amber and hints of sandalwood and spice — a subtly masculine fragrance.
I hope this blog has helped you think "outside of the box" for Father's Day this year.  If you would like to take advantage of our Scentsy Man Father's Day offer, please note this does not launch until the 1st June 2014, but you are welcome to email me and I will then in turn contact you as soon as it is launched.  If you would like to place an order, you are welcome to email me sales@thecandleboutique.co.uk or contact me via my Facebook page.