Scentsy UK Bar FAQs
What is a Scentsy Bar?
A Scentsy Bar is a block of fragrant wax in eight break-apart sections.
Where are Scentsy Bars made?
Scentsy manufactures all wax products at its headquarters in Meridian, Idaho, USA.
How long will a Scentsy Bar last?
Scentsy bars will typically last up to 100 hours per bar. This will depend on the strength of the fragrance, where the warmer is located in a room, the time of year, humidity and other factors.
What kind of fragrance oils are used in Scentsy Bars?
Scentsy uses both synthetic and naturally-derived fragrances oils to achieve the highest quality and longest-lasting bar. Synthetic oils are used for several reasons, including:
When using natural oils results in unrestrained use of limited or endangered natural resources.
When it isn't possible to derive the natural oils from nature. For example, synthetic oil is necessary to reproduce lily of the valley because fragrance cannot be extracted from this flower through typical extraction methods.
When it is cost-prohibitive to acquire natural oils and would preclude Scentsy from offering particular fragrances without increasing the price for customers.
What kind of wax is used to make Scentsy Bars?
We use a custom, high-quality paraffin wax blend designed to give you long-lasting fragrance and selected for its scent loading ability, melting point and firmness.
Why doesn't Scentsy use a soy- or vegetable-based wax?
Soy- or vegetable-based waxes can produce a quality wicked candle, but not a quality wickless candle.
How many cubes of wax should I use?
Beginning with the Autumn/Winter 2017 Catalogue, all new warmer dishes are stamped with the recommended number of Scentsy Bar wax cubes to use for the intended fragrance experience. This new feature was implemented to eliminate confusion and contradictory information. Add more or fewer cubes depending on your personal preference. We'll be posting a cheat sheet on the Business References tab of your Workstation with the recommended number of cubes for older and continuing warmers.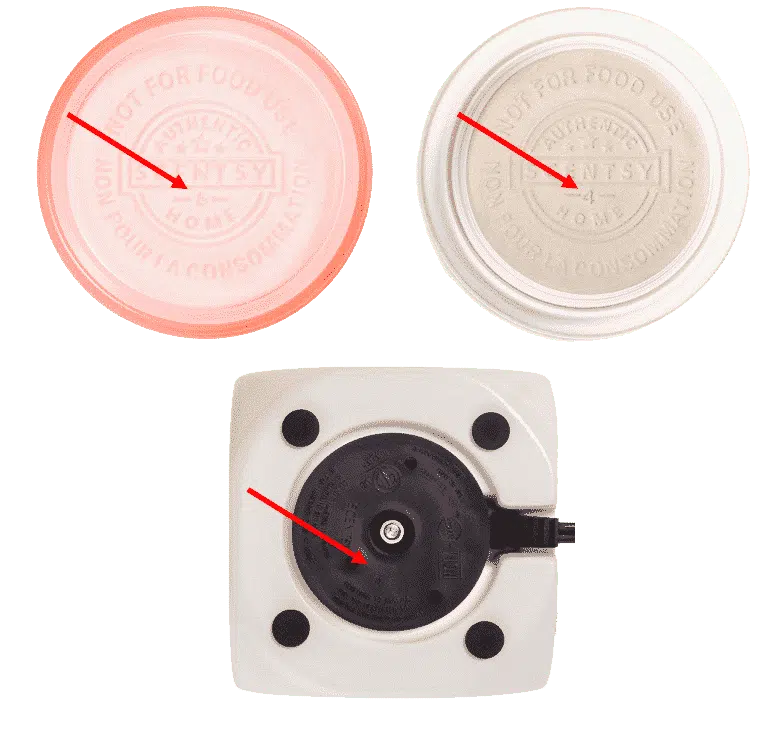 How do I clean the wax out of the Warmer?
While the wax is melted, pour it out and wipe the dish clean with a paper towel.
Are Scentsy Bars safe?
Scentsy Bars are safer than wicked candles because no flame is required for the wax to melt and release the fragrance. Since the wax is warmed and not burned as with traditional candles, no harmful chemicals or pollutants are released into the air. With Scentsy, there is no flame, smoke, soot or lead.
Do Scentsy Bars contain harmful phthalates?
Scentsy Bars do not contain or release harmful phthalates. A small percentage of Scentsy Bar fragrances contain extremely low levels of non-harmful diethyl phthalate (DEP), commonly used in fragrances to help blend ingredients and to make fragrances last longer. DEP is thoroughly tested and is consistently regarded as safe for use in fragrance by several government bodies including the U.S. Environmental Protection Agency and the European Union Scientific Committee on Consumer Products (SCCP). Scentsy follows all safety standards regulating the use of DEP set by the International Fragrance Association (IFRA).
Do Scentsy Bars contain any nut or mineral oils? Do they contain Bisphenol A (BPA), gluten, lead, egg or formaldehyde?
Scentsy Bars and fragrance oils do not contain any kind of nut or mineral oils. They are BPA-, gluten-, lead-, egg- and formaldehyde-free.
How should I store my Scentsy Bars?
Store your Scentsy Bars in a cool, dry area of your home, away from direct sunlight. If you store bars next to a stove or in direct sunlight, the top fragrance notes may be released from the heat.
Why can't I smell my favourite Scentsy Bar anymore?
Occasionally, you can become immune to a scent or fragrance note by simply warming it too frequently. For example, if you warm cinnamon fragrances all year, your nose may actually begin to filter out the smell of cinnamon. By switching out your Scentsy fragrances regularly, you can prevent this from happening.
I placed a new cube in my Scentsy Warmer, but I can't smell it. Why not?
Each fragrance has a different level of scent throw depending on the fragrance oil composition. Factors such as weather, humidity, ventilation systems and elevation may alter scent throw.
Weather and humidity: At higher temperatures, water molecules are more likely to go into the vapour phase, so there will be more water vapour in the air. When fragrance and water molecules bind together, the water weighs fragrance down, creating less diffusion of the fragrance into the air. When there is less moisture into the air, fragrance has better diffusion and can be perceived as stronger.
Environment: Large rooms, ceiling fans and flooring may affect how scent dissipates, as do open windows and ventilation systems.
Certain fragrance notes can be perceived as stronger than others based on their molecular structure and your sense of smell. For example, citrus notes are top notes, typically recognizable and can be considered stronger because your nose smells these notes first. In contrast, musk notes are base notes, aren't typically recognizable and are used to create harmony within a fragrance. You could expect citrus dominate fragrances to be perceived as stronger than musky
ones.