Scentsy and the Environment
We are now living in a more eco-friendly society with greener solutions being offered in our everyday living, such as bags for life in our supermarkets and energy saving lightbulbs in our homes.
This got me thinking into how Scentsy offers an eco-friendly alternative to the traditional candle jars.
The first aspect I considered is the actual Scentsy wax itself.  There are no phthalates, petroleum, lead, or "volatile organic compounds" in the wax and the Scentsy warmers release ZERO carbon emissions.  The food-grade paraffin wax contains both natural and synthetic oils and the Scentsy wax is specially formulated to only release the fragrance into the air which prevents coating your lungs with wax particles.
When a normal paraffin candle is burned, it produces toxic petrol-carbon soot, which can blacken walls, furniture, ceilings and contaminate ventilation duct-works in your home.  This soot goes into the air you breathe and can be hazardous to your health.
Another factor to consider is with the Scentsy wax, once the fragrance has been released, the wax which remains is 100% non toxic biodegradable.
The most obvious eco-friendly benefit from using a Scentsy warmer is that you only need one warmer to fragrance your room.
How many years do you think it takes a glass jar to break down when thrown away?  50 years?  100?  Wrong.  It actually takes 4000 years!!!   I appreciate that recycling is becoming part of everyday life in many houses up and down the country, but there are many that don't…..
I love Scentsy as I have piece of mind that whilst fragrancing my home, I am not releasing any toxins for my little girl to breathe in and our warmers are far more attractive than a candle jar, who thinks they look attractive once they have been used a few times?
You decide……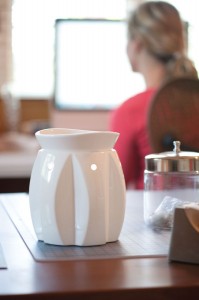 or