Cupcake Midsize Scentsy Warmer
Cupcake Midsize Scentsy Warmer
A rich chocolate-brown warmer dish is sandwiched between a pleated base and removable dollop of fluffy frosting, sprinkled with
powdered sugar accents and vent holes to release delicious fragrance.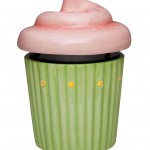 Since it's launch in the UK, the Cupcake warmer has become our best selling warmer in the mid-size range, therefore I felt it deserved it's own page on my blog!
Cupcakes can be traced as far back as 1796 where a receipe was created referring to "a cake to be baked in small cups".  In recent years, cupcakes have become very popular.  I regularly attend pamper/shopping events and 9 times out of 10 there is a cupcake stall – I then spend my whole evening battling the temptation!
On "googling" the word cupcake for images, there were over 143,000,000 results!!  Here are just a few which may have inspired Scentsy to create this best-selling warmer!