It's official! We are launching Scentsy Fragrance in Austria on 8 September!
It's official! We are launching Scentsy Fragrance in Austria on 8 September!
We couldn't be more excited to further expand our Scentsy family. Ever since we began accepting sales in Austria last year, we've had a remarkable number of requests to allow for sponsoring too. Consultants were thrilled to hear the announcement at the Scentsy Family Reunion in Frankfurt this week.
Instead of making you wait an entire month to jump in, you will be eligible to join Scentsy Austria Today but you can not officially sell Scentsy until the launch date of 8th Sept 2014
If you are interested in joining as a consultant in Austria go directly to our site
https://thecandleboutique.scentsy.co.uk/Enrollment/Join
If you have questions or would like more information about this fantastic opportunity please send me an email to:
or
Request your FREE Scentsy Information Pack
This is an incredible opportunity to join an enormously successful multi-billion dollar company.
As your sponsor, I will be able to pass my knowledge on to you and will offer full support and training on launching, growing and running your Scentsy business.
If you would like to receive more information regarding joining Scentsy, please fill out the form below:
[ninja_forms_display_form id=3]
What Is Scentsy?
Scentsy is a US, multi-billion dollar direct selling company.
Scentsy began with a simple idea — a safe, wickless alternative to scented candles — and quickly grew into one of the most successful direct selling companies in the world. This wickless concept is simply decorative ceramic warmers designed to melt scented wax with a heating element instead of a traditional wick and flame.
Entrepreneurs Heidi and Orville Thompson encountered the product line at a home show in early 2004, purchased the tiny company, and moved Scentsy to Meridian, Idaho, USA, where the company's first home office was a 40-foot ocean shipping container on a small sheep farm. The Thompsons were inspired by how fragrance brings powerful emotions and memories to the surface — without the safety risks of a burning candle — and launched Scentsy as a party-plan company that same year.
Scentsy joined the U.S. A. Direct Selling Association (DSA) in 2004 and enrolled its first Independent Consultant. Since then, the company has expanded operations, hired a strong executive team, extended its product line, innovated around the Scentsy business opportunity, and received numerous awards for its growth and ethical business practices. Scentsy was named the number one consumer products company on the 2010 Inc. 500 list, ranked among the top 100 on the 2011 Inc. 500 list, appeared in the 2010 Direct Selling News Global 100 list of top direct selling companies, and received the DSA's 2010 and 2011 Success Awards and the DSA's 2009 Rising Star Award.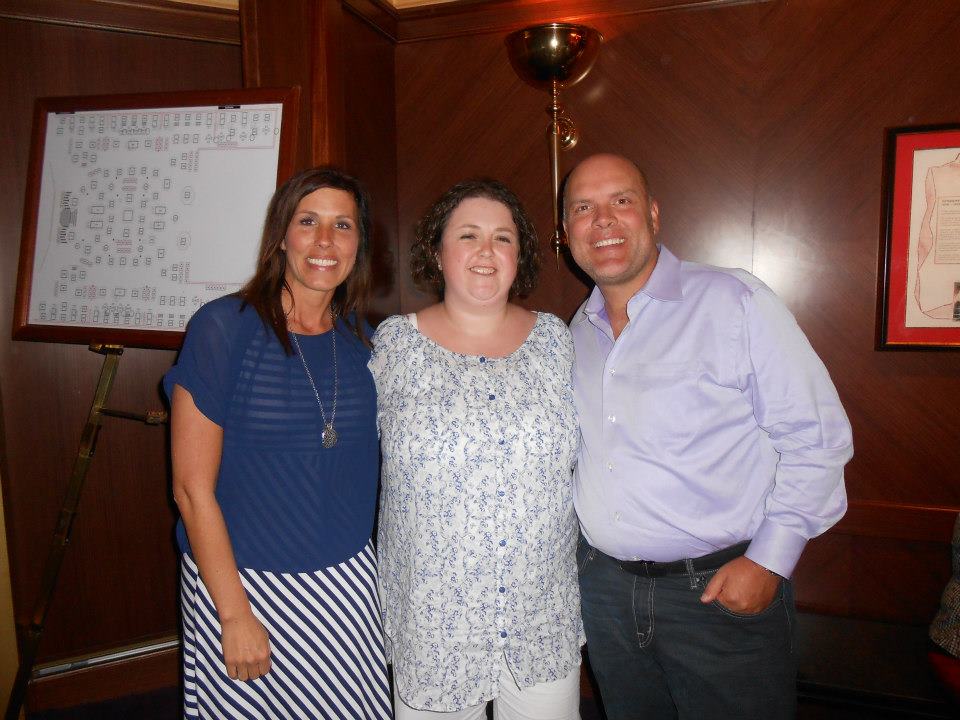 Me with Heidi and Orville Thompson on the UK's first Incentive Trip in May 2013 (a Mediterranean cruise).
Become a Scentsy Consultant in the UK, Ireland, Germany, Australia, USA, Canada, Spain, France & Austria
Do you have friends or family that may be interested in joining Scentsy?  Do you love Scentsy and know they will to?  Please tell them this exciting news and pass on my email address if they would like any information regarding joining Scentsy.
If you have any questions at all regarding any aspect of Scentsy, please email me today.
Emai:  becky@thecandleboutique.co.uk
Visit, like and share my Facebook page https://www.facebook.com/x.The.Candle.Boutique.x