Which Wax Fragrances Are Good For Homes With Pets?
Scentsy Coconut Lemongrass Scented Wax Bar – Perfect For Homes With Dogs
Last weekend I attended a county show with another Scentsy Consultant.  Although the weather was awful on Saturday, Sunday's weather held for us and lots of people came down to the event.
One of the things I love most about county shows is people bringing their dogs along for the dog shows.  Although we were outside in a marquee, people were drawn in by the Coconut Lemongrass we were warming – that just shows how amazing our fragrances are to carry through to the open air!
I have a dog myself and have learned that the citrus fragrances are the best to cut through the doggie fragrance.  Coconut Lemongrass is by far my best selling wax for people with pets and I cannot recommend it enough.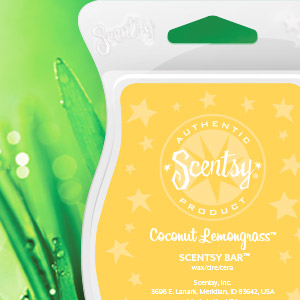 COCONUT LEMONGRASS SCENTSY BAR
Creamy, tropical coconut and sunny, bright lemongrass.
I have a Staffie and they are not the most fragrant of dogs!  When I warm Coconut Lemongrass or another citrus fragrance I am confident that the first thing people smell when they come into my home is not my dog Charlie.
If Coconut Lemongrass isn't the fragrance for you, some others I would recommend are:-
Scentsy Grapefruit & Acai Wax Bar – A fizzy, revitalizing tonic of juicy açaí, crisp apple, refreshing pomelo, and tangy pineapple.
Scentsy Lemon Verbena Wax Bar – Fresh lemon zest, bright kaffir lime, and verbena leaf.
Scentsy Sunkissed Citrus Wax Bar – Lively blend of oranges, lemons, limes, and grapefruit.
If you would like to receive a sample of any of our fragrances, please do email me sales@thecandleboutique.co.uk and I will pop one in the post to you.