Not quite sure of something relating to your Scentsy business? Then you have come to the right place. In this post, I will try and explain in plain English answers to common questions we get asked as Scentsy consultants.


BBMB
BBMB stands for "Bring back my bar"
What is Bring Back My Bar?
Twice a year, we offer you the chance to vote back your favourite discontinued Scentsy Bars. The winners then go on sale for a limited time, giving you the opportunity to stock up. That's Bring Back My Bar!
Element Warmers
Element warmers is a term used for warmers that use a heating element rather than the heat of a light bulb. Element warmers that also light up will be lit by LED's.

PRV
PRV stands for "personal retail volume". PRV is a global points system that can be converted to local currency using a peg rate. PRV for a product will be the same in all countries that sell Scentsy, so a current catalogue bar of wax will be 6 PRV in all countries.

Peg Rate
The PEG Rate is a calculation applied to Personal Retail Volume (PRV) that converts PRV points to local currency to pay commissions.

This sounds more complicated than it is, let me give you a couple of examples.

UK example:- 6 PRV (one wax bar)
6 PRV x 1.01 (PEG rate) = £6.06 + £1.21 TAX (VAT) = £7.27 = rounded down to £7.25

Australia example:- 6 PRV (one wax bar)
6 PRV x 1.54 (PEG rate) = $9.24 + $0.92 TAX (GST) = $10.16 = rounded down to $10

Scentsy Peg Rates:-
Australia peg rate is 1.54
Austria peg rate is 1.08
Canada peg rate is 1.32
France peg rate is 1.29
Germany peg rate is 1.19
Ireland peg rate is 1.19
Mexico peg rate is 21.6
New Zealand peg rate is 1.6
Spain peg rate is 1.19
United Kingdom peg rate is 1.01
USA peg rate is 1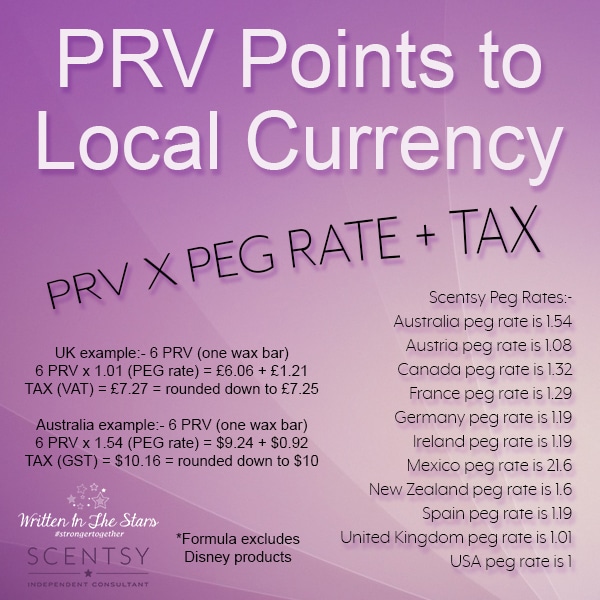 PWS
PWS stands for "Personal website". When you join Scentsy you have the option to have your own website that will look somthing like this:- https://thecandleboutique.scentsy.co.uk/ It is free for the first three months then just £10 per month if you are in the UK.
GWV & TWV
GWV stands for "group wholesale volume" and is the sum of your entire group of consultants. Wholesale volume is 75% of PRV.
TWV stands for "team wholesale volume" and is the sum of your group minus any directors and their team. If you do not have any directors in your downline the GWV & TWV figures will be the same. Wholesale volume is 75% of PRV.
To calculate GWV from PRV:- PRV X 0.75 = GWV
To calculate PRV from GWV:- GWV ÷ 0.75 = PR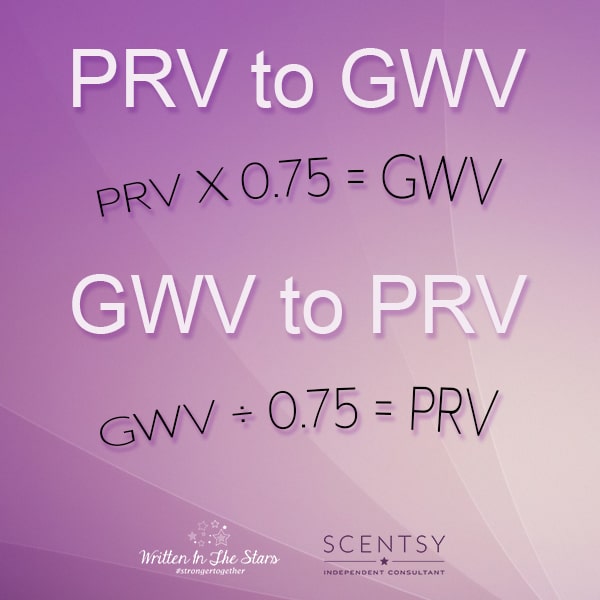 SFR
SFR stands for "Scentsy Family Reunion
Scentsy Family Reunion is an annual convention held in different locations around the world. It is a 2 day event full of training and the opportunity to meet with your team, network with other consultants and meet members from the Scentsy Home Office.