Give a Scentsy Easter Egg This Year
So Spring has finally arrived!  Thank goodness as my new dog, Charlie, loves his walks and we are averaging about 4 miles a day, not sure I am quite ready to be walking that far in the rain!  I am determined to lose weight for my trip to Greece with Scentsy in May 🙂
I cannot believe my daughter breaks up for the Easter holidays on Friday, where is this year going??  I am so excited about having her home for 2 weeks, we have lots planned including her taking part in a Disney Frozen workshop, visiting some other Scentsy consultants for a couple of days and also joining her friends in an Easter Egg hunt around the local park – cannot wait!
Celebrate Easter with Scentsy
Whilst I love chocolate as much as the next person, I personally do not want a cupboard full of chocolate this Easter – I just do not have the willpower to not eat it all at once!  Scentsy have a great alternative 🙂
Nothing says "spring" like a wash of pastel colours, cheerful flowers, and fragrances that put a skip in your step. Celebrate the change in seasons "Scentsy style" with our limited time Spring Bundle. It contains:
1 Easter Egg Premium Scentsy Warmer
3-pack of Scentsy Bars:
1 Lush Gardenia Scentsy Bar
1 French Lavender Scentsy Bar
1 Coconut Lemongrass Scentsy Bar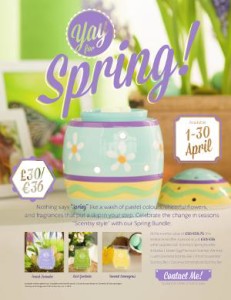 Normally this bundle would cost £49.00, so it really is an amazing deal for £30.00!!  It is a limited offer deal ending on the 30 April 2014.
If you are looking for an Easter gift for someone and want something a bit different to chocolate, then Scentsy is something they can enjoy all year round.
If you would like to place an order, you can either order directly by visiting my website www.thecandleboutique.co.uk or you are welcome to email me sales@thecandleboutique.co.uk to take advantage of my special shipping rates.