Simply Scentsy Collection
Simply Scentsy Collection
After receiving a LOT of requests from us Scentsy consultants, Scentsy released the Simply Scentsy Collection in the Spring/Summer catalogue 2013 with the highly requested and much anticipated Scentsy Simply Rose bar.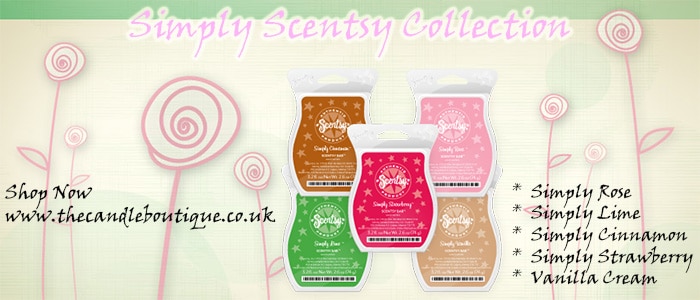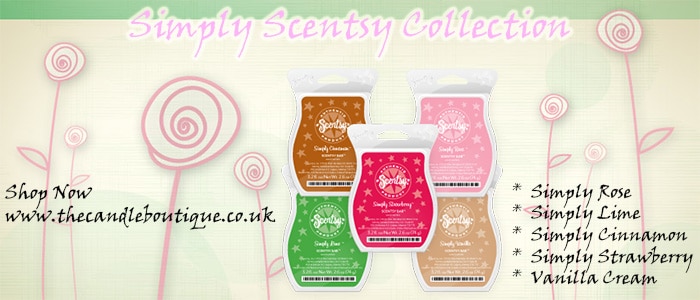 The Simply Scentsy Collection "does exactly what it says on the tin".  Scentsy have chosen five key fragrances and created their own Scentsy wax bars.
Whilst I am not a great fan of floral fragrances, I can understand the appeal of this fragrance.  It took a while for Scentsy to release this fragrance as they wanted to ensure it truly reflected a rose fragrance and I have to say they have got it spot on.
I love this Scentsy bar!  I think this one is perfect for the kitchen, it adds a real clean zesty fragrance to the room.  It's not the strongest fragrance in this range but it definitely adds a zing to the room when warmed!
This bar is mouthwatering; the fresh and fruity scent of strawberries in a bar.  Again it is not the strongest of the Scentsy bars, but is perfect for warming during those long summer evenings.
Cinnamon is very popular in the US so I am not surprised to see this bar in the Simply Scentsy Collection.  It has a warming spicy feel and perfect for those who crave the those warm winter fragrances all year round.
This fragrance is good enough to eat (although I strongly recommend you do not do this!).  It is the second fragrance I ever warmed and fills your home with the scent of a freshly baked sponge.  This is definitely a Scentsy classic.
If you would like to purchase any of these or any other Scentsy product, please email me sales@thecandleboutique.co.uk
Don't forget to "like" my Facebook page https://www.facebook.com/x.The.Candle.Boutique.x to be kept up to date with all the Scentsy news.