Scentsy for Wedding Gifts
Wedding Gift Ideas – Looking For An Unusual Wedding Gift?
It feels like such a long time since I last wrote.  Unfortunately I unexpectedly spent a week in hospital last week, resulting in me being in there for both mine and my husband's birthday.  As soon as I start to feel "human" again we plan on going out for the evening to make up for it.  I also seemed to have missed the Summer whilst in hospital, I was told one day was 26 degrees – typically I was asleep for most of it 🙁
Whilst in hospital a couple of nurses were talking about what they were going to buy for one of the nurses for their wedding gift and this got me thinking as to how Scentsy can make such an original present.  Most couples these days already live together before they get married so they will already have all the traditional gifts such as toasters, photo frames and cutlery.   If you would rather give a gift than money or vouchers, Scentsy really does make such a fantastic alternative wedding gift.  Our beautiful warmers are handcrafted and make a lovely centre piece to any room.  Teamed up with one of our beautiful fragrances, Scentsy really is a wedding gift that can be enjoyed every day.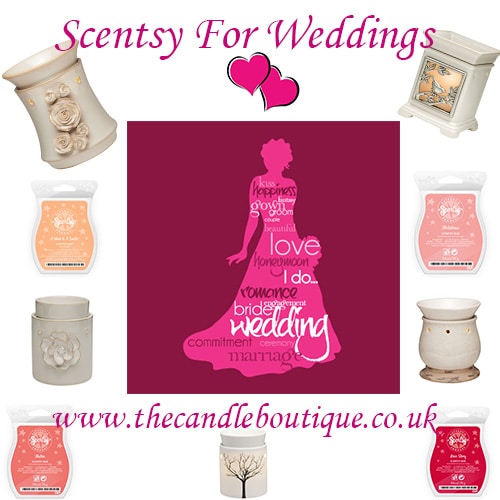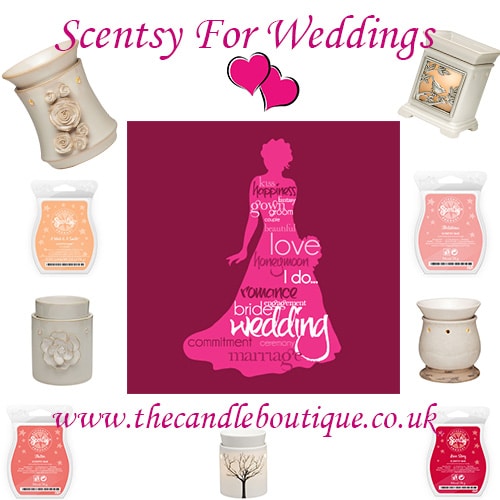 How about our Scentsy Full-Size Bride Warmer teamed up with "Scentsy Love" Story Scented Wax?
Or maybe a bar of Scentsy's "A Wink And A Smile" and our very popular Scentsy Mid-Size Tilia Warmer?

Perfect Gifts For Mother-of-the-Bride, Maid of 
Honour or Bridesmaids!
Alternatively, maybe you are the bride or the groom and are looking for gifts for your mums, maid of honour or bridesmaids?  Scentsy is a gift that can truly be enjoyed by all.  If you have very young bridesmaids or page boys then our Scentsy Buddies make a gorgeous gift that will offer lots of cuddles!
If you need any help at all in putting together the perfect wedding gift package, please email me becky@thecandleboutique.co.uk and I will be more than happy to help you.