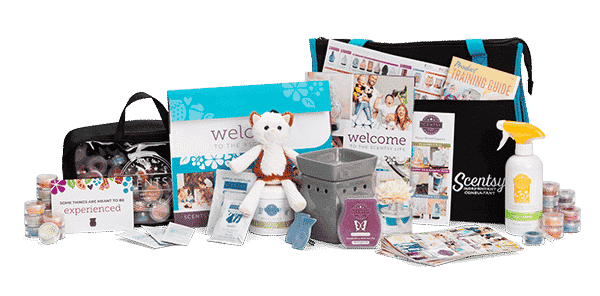 STARTERKIT €99
Classic Curve Gloss Gray Warmer
Black Raspberry Vanilla Scentsy Bar
Aloe Water & Cucumber Geurbloem
Hobo de Kat Buddy Clip
Lemon Verbena Aanrechtbladreiniger
Amazon Rain Waskorrels (453 gram)
Luna Car Bar Clip
Monsters van Body-producten
Monsters van Laundry-producten
Geurtesterset Voorjaar/Zomer 2020
Classic Curve Viltmonsters
Consulentengids
Snelstartgids
Catalogussen Voorjaar/Zomer 2020 (1 verpakking van 25)
Productlijsten Voorjaar/Zomer 2020 (1 blok van 50 vellen)
Brochures per categorie Body-producten (1 verpakking van 25)
Brochures per categorie Clean-producten (1 verpakking van 25)
Brochures per categorie Laundry-producten (1 verpakking van 25)
Brochures geursystemen (1 verpakking van 25)
Brochures per categorie Pets-producten (1 verpakking van 25)
Host/Inschrijfbrochures (1 verpakking van 25)
Bestelformulieren (1 verpakking van 50)
Uitnodigingskaarten (1 verpakking van 100)
Tassen voor producten
Mini hersluitbare verpakkingszakjes
Producttrainingsgids
Bedankkaarten (1 verpakking van 100 stuks)
Gratis geschenk
Start je eigen Scentsy-bedrijf en werk het op jouw manier. Of je het nu wilt uitvoeren als een fulltime carrière, of iets dat je een paar uur per week kunt geven, Scentsy is een leuke en lonende manier om thuis te werken.
Verdien 20 tot 36 procent commissie en bonussen voor het delen van producten waar u van houdt. Je hebt ook de mogelijkheid om te werken aan het verdienen van geweldige incentivereizen, voorbije bestemmingen waren onder meer een cruise op de Middellandse Zee, Griekenland, Disneyworld Florida en Mexico.
WORD NU LID! BEGIN VANDAAG MET UW WETENSCHAPPELIJKE ZAKEN.