Say Bonjour To Pari The Poodle Dog Scentsy Buddy
Scentsy's Newest Buddy Is Here – Meet Pari The Poodle Dog!
Ok, the Scentsy Buddies are starting to take over our house and we have a new release today to add to the collection.  I have two daughters who both go crazy for the buddies.  Even with a 6 year age gap, both my 7 and 1 year old adore them equally.  My eldest discovered Shu Shu The Panda tucked away in my office this afternoon and couldn't resist showing her little sister.  Of course, she fell in love with Shu Shu immediately and sealed Shu Shu's fate by slobbering all over her.  Then my eldest spotted Pari The Poodle on my computer…….  I am sure you can guess what conversation took place!  But to be fair, who could resist this gorgeous buddy??!


"Take a trip to the City of Light and say bonjour to the newest Scentsy Buddy Pari the Poodle.  A festive French beret adorns her springy white curls for a pup that's both cuddly and chic!"
Pari the Poodle is £33 and comes with a Scent Pak of your choice.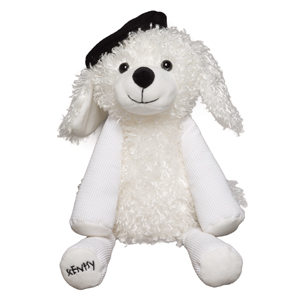 If you would like to treat someone (or yourself) to cuddles with Pari, please email me or alternatively call me on 0800 772 0656.
Alternatively you can contact me via my Facebook page.