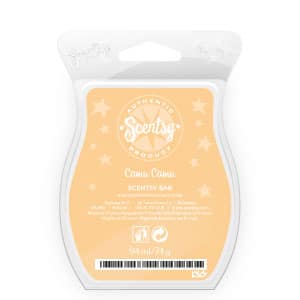 Tropical oasis of lush mandarin, camu camu, and passionfruit.

Please feel free to leave a review of this Scentsy product.
Click here to submit your review.
---
---
Camu Camu Scentsy Bar
Tropical oasis of lush mandarin, camu camu, and passionfruit.
SKU
UPC
Model
Fruity
This is one of my all time favourites. It is wonderfully fruity summery smell. Not too overpowering and lasts for ages!

---
A 'must have' scent
Deffo one of the faves in our house! Everyone loves it. I often mix it with Vanilla Creme. The scent is like the best Vanilla ice-cream you've ever eaten. On a hammock! In paradise!!! Well that's how I imagine it!!! Enjoy!

---
My fav!
Oct 03, 2015
by
Diane Hunter
Love love love this melt! Regularly have this on my bedroom burner and I find it very relaxing& fresh scent. Reminds me of a lazy holiday on a tropical beach

---
Feb 12, 2014
by
Pamela Freeland
Without question, this is my favourite Scentsy wax bar. It's not too heavy but it's strong enough that you AND any visitors to your home can enjoy, but not be overwhelmed by this tropical scent permeating throughout the house. To me, this scent brings to mind long lazy days on a tropical beach, with white sand, blue skies & sea, delicious cocktails & a floral breeze in the air. Highly recommended.
Also, if you add a cube of Simply Vanilla, this tropical paradise scent turns into a sublime ice cream sundae! Yummy!!

---