The Summer Flash Sale is still LIVE! Scroll down to the bottom of this page to find a link to the flash sale.
However lots of items have now sold out! Here is a current list of sold out sale products.
SOLD OUT ITEMS:
Blueberry Cheesecake Scentsy Bar
Give Me Passionflower Scentsy Bar
Good Tidings Nightlight Warmer
Indigo Cotton Scentsy Bar
Bernie the Buddyfly Scentsy Buddy
Jungle Jam Scentsy Bar
Wild What-a-Melon Scentsy Bar
Quiet Clementine Scentsy Bar
Sugared Cherry Scentsy Bar
Cozy Kitchen Scentsy Bar
Beloved Warmer
Accidentally in Love Scentsy Bar 
Bubblegum Blast Scentsy Bar
Dark Harbor Scentsy Bar
Gleeful Grape Scent Pak
Love & Happiness Scentsy BAr
Cotton Candy Cookie Scentsy Bar (BBMB)
Strawberry Champagne Truffle Scentsy Bar
Oakly the Owl Buddy Clip 
Silver Bells Washer Whiffs 16 oz
Borris the Yeti Buddy Clip
Falling for Autumn Warmer
Calming Woods Scentsy Bar
Vanilla Cinnamon Clove Essential Oil
Spring Gift Box
Salted Caramel Cupcake Scentsy Bar
Love Heals Scentsy Warmer
Poppy Party Warmer
Sunny Beach Scentsy Warmer
Queen Pineapple Scentsy Warmer
Stella the Unicorn Buddy Clip
Simply Rose Bath Ball
Bubblegum Blast Scent Pak
Beloved Scentsy Warmer
Road Less Traveled Scentsy Warmer
Love, Laughter, Coffee Scentsy Warmer
Sweet Cucumber Car Bar
Cashmere Pear Scentsy Bar
Rosewood and Freesia Scentsy Bar
Another Day in Paradise Scentsy Bar
Holiday Oils 3 Pack
Toasty Cabin Scentsy Bar 
Pristine Waters Scentsy Bar
If you missed out on items from this sale please join our mailing list for the direct links to future flash sale as soon as they go live.
You will also receive our monthly specials too!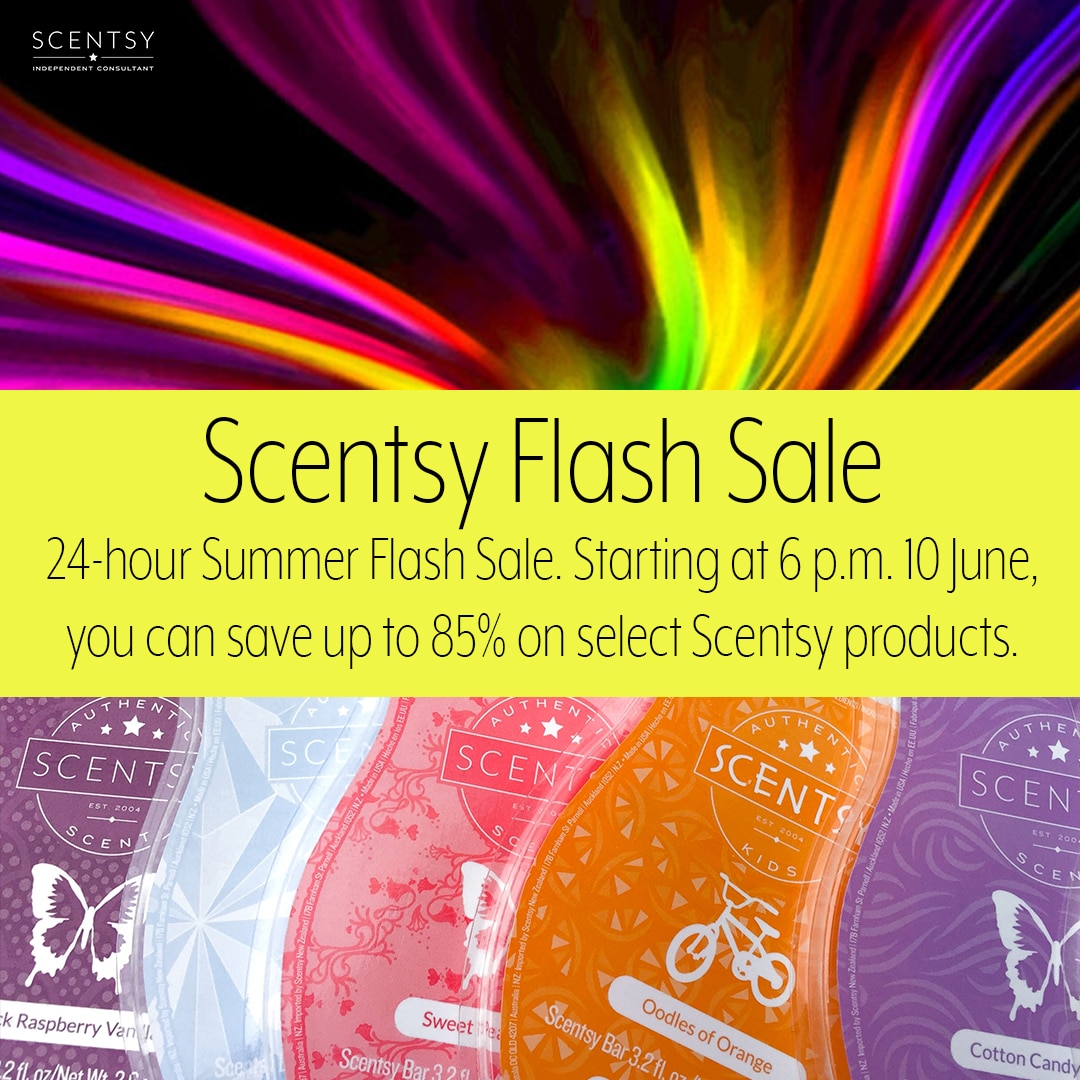 As temperatures rise, so do the savings with our 24-hour Summer Flash Sale. Starting at 6 p.m. BST 10 June, you can save up to 85% on select Scentsy products for an amazing 24 hours.
Get ready for some hot deals with our Summer Flash Sale!
Massive Savings of up to 85% OFF
Website Only Sale!